No-Deal Brexit Consequences for UK Logistics and Shipping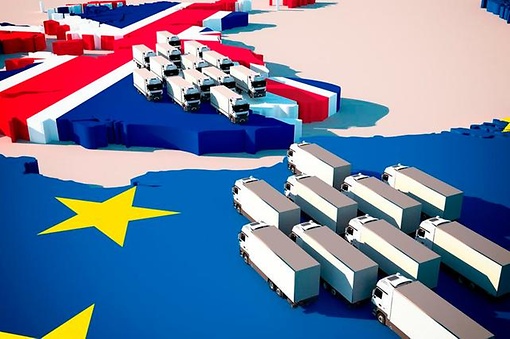 With no clear resolution in sight, what would a no-deal Brexit mean for the logistics industry? The Brexit deadline is looming, with 31 December 2020 as the final day of the UK's transition period leaving the European Union. Effective, efficient freight haulage depends on certainty and stability at every stage: the parameters by which drivers and hauliers will be working from January 2021 onwards remain unclear. What is apparent, however, is that logistics and shipping businesses should brace themselves for a rocky start to next year.
What does Brexit and the no trade deal bring to UK logistics companies?
At a minimum, logistics and shipping businesses should be aware of new permits and paperwork for hauliers entering or exiting the UK from the EU. More rigorous customs processes and tariffs will lead to delays and added costs: the UK government's reasonable worst case scenario predicts queues of up to 7,000 lorries at the Kent border, with 40 to 70% of hauliers would be sufficiently set up to comply with new restrictions. This does however mean that for the first quarter of 2021, short channel straits will also see a 45% reduction in traffic flow.
The UK Department for Transport stated: "Any delays will be due in part to low levels of border readiness among traders and the haulage industry, leading to significant numbers of trucks being stopped by the French authorities." In short, it seems that the UK government is setting the stage for individual lorry drivers and hauliers to take the blame for delays, backlogs and shortages for customers. Lorry drivers attempting to enter Kent, for example, will need to fill in a form to secure a permit to do so, with a £300 fine if they enter the county without this permit. This increases the pressure on logistics industries to essentially expect the unexpected, preparing for multiple potential hitches caused by Brexit.
Expecting the unexpected: what does this mean for business?
Logistics businesses will need to work hard to anticipate the many challenges caused by a no-deal Brexit in their project management and supply chains.
Effectively, a no-deal Brexit ensures that the UK will no longer be able to function as a key entry/exit gateway for the EU as, in particular, it will bring changes for three freight flows:
Outbound UK products heading for EU markets and countries with an agreement with the EU.
Products entering the UK from EU nations with trade agreements with the EU.
Transit flows originating in non-EU markets, going through the UK and headed for EU markets, and vice versa.
The looming exit from Europe has pushed several UK industries importing to or from the EU to start moving manufacturing plants and warehouses into mainland Europe, and non-EU businesses based in the UK to relocate as well. This will shift emphasis within production networks and European distribution centres from the UK to the Continent, with dire consequences on European ports, as they will have to accommodate the additional warehouses and volume of incoming freight.
As the setbacks the UK logistics industry will see operating around their own borders were not enough, they might also suffer an additional financial blow, as flows of goods will be likely rearranged to avoid the UK altogether.
Implications of no-deal Brexit for the Irish border  
It goes without saying that the Irish border poses even more complicated and uncertain issues than Kent and Dover. Irish companies are expected to redouble efforts to circumvent the UK land bridge, instead of using direct routes between Dublin and the continental European ports.
Checks for goods travelling between Great Britain and Northern Ireland will need to take place in the Irish Sea. A no-deal scenario would mean these customs checks will very likely be far more rigorous, without the negotiated easements a deal would offer, as well as additional tariffs for products that are "at risk" of then moving into the EU from Northern Ireland. These tariffs could then be reclaimed at a later date through a rebate system, if the goods remain in Northern Ireland and do not thereafter cross the border into the Republic of Ireland and the EU.
Food imports from the UK to Northern Ireland will see potentially severe delays, as products of animal origin, e.g. meat ready meals, would require export health certificates. They would also be subject to health inspections at ports like Belfast and Larne. Consequently, goods lorries transporting food to supermarkets with hundreds of lines of products will be hit with so much red tape, it would constitute "a potentially existential threat for some operations", according to director of the Northern Ireland Retail Consortium, Aodhan Connolly. In a no-deal Brexit scenario, the disruption will be even more grave than during the heights of the coronavirus pandemic, with food imports suffering in particular. Tariffs will amount to an average of 22%, with food products from Europe especially in demand in January.
What the UK government is doing to help
As for how the UK government is preparing to facilitate goods haulage after Brexit, there are a number of measures in the pipeline. In order to create more space for many more customs checks on cargo and paperwork, the government has established more customs offices at the border. They are simultaneously hiring and training people to operate these offices, but tens of thousands more agents will be required and that is no small prospect with the time ticking away until December 31st.
Recognising the impact of the COVID-19 pandemic, in June 2020 the UK government dropped plans to immediately introduce full border controls from January 1st. UK businesses importing standard goods from the EU, e.g. electronics and clothes, will be permitted to defer full customs declarations and tariff payments for up to six months. For perishable products (e.g. fresh vegetables, meat, honey, milk and eggs), customs checks will start in April 2021 and companies will be required to make full declarations and tariff payments by July of next year.
No-deal Brexit brings back Operation Brock
The Government has also revived "Operation Brock", last year's shelved plan to reserve a 15-mile stretch of Kent motorway for lorry drivers measure in the event of a no-deal Brexit. By replacing the fixed metal barrier in its 2019 iteration into a moveable concrete one, Operation Brock can now be deployed within hours to ease queues in case of delays at the Channel. Although Operation Brock was intended to be bolstered by the government's Smart Freight System, designed to allow EU-bound operators to check if they are "border-ready" to reduce delays at customs, it was reported in September that the Smart Freight System will not be ready for use in January 2021.
Chris Yarsley, Logistics UK's Policy Manager, has made clear the challenges that hauliers will face in the event of a no-deal Brexit. International operators will need to use at least eight different systems, including the Smart Freight System. Yarsley says, "user confidence in the platform is vital to ensure it is successful in keeping traffic moving through Kent… as with any new technology, we need time to trial, test and adapt to the new system".
2021 will see logistics in the UK become more complicated than it has ever been, with the UK government's response raising more questions than answers. Staying on top of new developments and ensuring that everyone in your business is as up to date on restrictions as possible, allowing for delays and additional expenses, are unfortunately the best and only ways to prepare for a no-deal Brexit.