Market prognosis: 6 logistics trends for 2023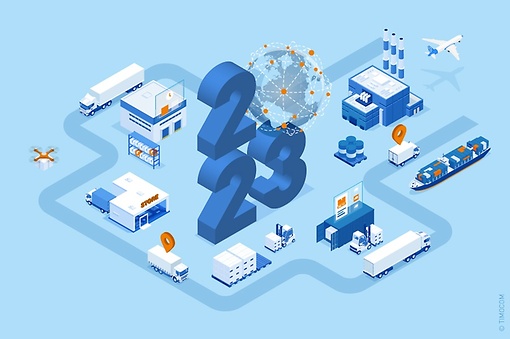 Logistics companies and freight forwarders who wanted to get ahead of the game in 2022 had to react flexibly to multiple changes and crises. So what does this year look like? What direction will the logistics industry take as the world becomes more and more digital? Here in this blog post, we will be specifically discussing what logistics trends you need to keep an eye on in 2023.
1. Sustainable logistics and emissions trading
Fighting the climate crisis is more urgent than ever, not just from a humanitarian, but also from an economic perspective. Once decisive new aspect is the EU Emissions Trading System (EU-ETS). This system means that companies must purchase emissions certificates that clearly define, and therefore limit, the emissions they are responsible for. "Companies are paying more attention to their carbon footprints. And not just in regards to vehicles, where many companies are investing in a new generation of trucks, but also in terms of lighting and solar panels in and on warehouses, or as part of yard management," according to Marc Kohlsdorfer, a Key Account Management Team Lead at TIMOCOM.
Not only that, in countries such as Germany, the first stage of the German Act on Corporate Due Diligence in Supply Chains came into effect on the 1st of January 2023. The law requires companies to "protect the environment and human rights" across the entire supply chain. This requirement will directly or indirectly affect both logistics companies and those working in industry and commerce; if you want to learn more, we have collected relevant information for you as part of our sustainability series.
2. How to keep your finger on the pulse as a transport logistics company
Purely analogue businesses can simply no longer keep up with rapid market developments. If you want your company to stay viable, you have to view the most recent challenges as an opportunity, and ensure that your supply chains are secure. That means being well prepared and making good use of digital helpers. Some excellent strategies for doing so include diversifying your logistics partners, intelligent use of warehouse spaces and searching for and relying on local suppliers – and of course making use of multichannel logistics, which provide both flexibility and reliability.
3. Logistics trends: the Internet of Things and robotics
Already, companies are making use of smart machines that use cloud based software to implement processes or share a variety of different types of information. Smart sensors on containers can, in addition to their location, share information regarding temperatures, pressure and humidity within the cargo hold, as well as recording and processing additional data. Using such sensors does more than just provide an ETA, it also has very concrete advantages when it comes to delivering goods such as medications and foodstuffs.
In terms of warehouse logistics, we are well past the point where digital information is limited to what is in stock. "Autonomous forklifts have now taken over around 65% of the work from people, and they can move an average of ten to fifteen palettes per hour," according to DHL in the German industry magazine Verkehrsrundschau. Modern machines move autonomously through warehouses and use cameras to recognise products and pick up orders. Cobots (collaborative robots), as an example, are used in production and warehouse processes, working together with people to get the job done.
4. Smart processes, transparency and paperless logistics
Industrial and trade companies need APIs, programmes that connect IT systems to one another and thus guarantee that information can be transferred smoothly. The goal is transparency and optimised distribution with help from digital tracking. ETA calculations can optimise so much more than mere loading dock management processes. Today, transparent and reliable delivery information is a real competitive advantage. More than ever before, logistics is part of the product promise, and viewed as an essential element of customer service. 
5. Warehouse capacities: just-in-case is replacing just-in-time
"Products and availability everywhere" is another phrase that might be seen as a trend for 2023. It's a trend caused by supply chains stretched to their limits and short-term, extremely volatile demand for specific products and commodities. Some examples from the past few years include medical masks, corona vaccines, microchips, wood or (most recently in Germany, LNG). The last two years have shown that products can simply no longer be reliably delivered ad-hoc. In the final quarter of 2022, around 60 LNG tankers, filled to capacity, were anchored on the coast of Europe; they were here to deliver LNG, but gas storage facilities were already filled to the brim thanks to enormous amounts of political pressure, and prices dropped dramatically. German magazine Handelsblatt reported the story. This volatility and uncertainty is leading many companies to significantly increase the goods they have in storage. This, together with a continuing recession and the associated slump in the global economy, means that there will likely be a glut of individual products and commodities, as predicted by, among others, ING in a recently published economic analysis. Just-in-case and product availability are trends that we will certainly see more of in 2023.
6. Micro fulfillment in the last mile
Online shopping continues to boom, catapulted years into the future by the pandemic. And it's increasingly clear that we are in need of new last-mile solutions. Consumers, in particular, are increasingly demanding same-day delivery in the B2C segment. And that means that micro fulfilment must become faster, more efficient and more reliable. This will mean creating modern warehouses, such as micro fulfilment centres in strategically important positions. And some countries are even experimenting with autonomous drones for last-mile deliveries.
It seems like logistics trends for 2023 can be sorted into three categories: volatility, sustainability and digitalisation.
In addition to predictable trends and changes, companies will simply have to be better prepared to face unknown risks along their supply chains. Now is the time to invest in your future and be prepared: offer unneeded warehouse space on our warehousing exchange, find new business partners on the freight exchange or improve your company's efficiency and customer service with increased data transparency.
Invest in your future with TIMOCOM!