Is the coronavirus changing how payments are processed in the logistics industry?
Interview with Alexander Oebel, TIMOCOM Lawyer, Director Debt Collection & Legal Affairs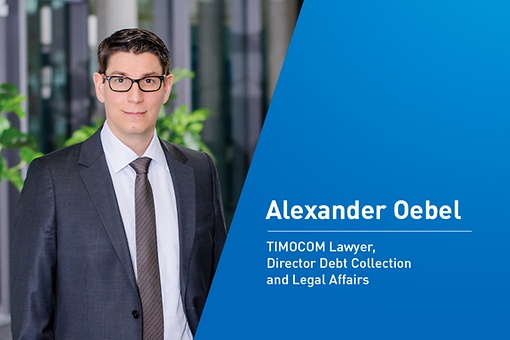 If the payment date for an invoice has passed, the international debt collection service can help customers get their money. They are successful in around 86 percent of cases. In this interview TIMOCOM lawyer Alexander Oebel, Director of the debt collection service, shares the secret to the service's success. He also provides insight into current payment practices in the logistics industry and provides tips on what to take into account when processing payments.
You need accounts receivables management support?
Hire the debt collection service now
Mr. Oebel, could you describe your job for us?
I am in charge of the legal department here at TIMOCOM, in particular the debt collection service. In essence we help to solve problems between customers and deal with the company's legal needs.
Since you brought it up: What is it that makes TIMOCOM's debt collection service so special?
…the fact that we are able to collect on debt quickly while acting as a neutral intermediary for all parties. If contractual parties are not in agreement, and particularly if they are not in the same country and do not speak the same language, we help ensure that they can still react to one another professionally on the market tomorrow. Our customers are relieved to know that they have a trustworthy partner at their side to help them overcome any obstacles.
What obstacles?
From experience I can say that the problems don't necessarily have to be legal in nature. Often it's simply communication difficulties.  In these cases, our team of international employees is able to provide help in over 27 languages. We specialise in the logistics and transport industry, so we can get right to the point with our customers and start working on solving the problem immediately. Debt collection services often come into play when a debtor is not reacting and communication has broken down.  To do this, we use the documents provided to investigate the case and answer any open questions.
How has the economic situation changed for many transport companies, considering the coronavirus crisis?
On the one hand, we are seeing that different industries have reacted very differently to the situation. The market is changing. Some goods are in high demand, others are not being purchased at all. Transport companies and freight forwarders that used to serve a broad customer base have been forced to remove some industries from their books entirely. On the other hand, transport companies that deliver food, toilet paper, or more recently vaccines, are in very high demand. But at the beginning of the crisis, at least, many transport companies had to drastically reduce their expenses, for example by decommissioning their vehicle fleet or putting some of their employees on short-time working schemes. It remains to be seen whether government aid programs will be enough to sustainably support companies that often have very tight margins, because of course each company has its own unique cost structure.
Has the current situation changed payment practices in the logistics industry?
The market has become very cautious. People in the logistics industry are not as willing to pre-finance services as they were before the crisis. It used to be the case that when a service provider had carried out multiple transports for a company, they would send the invoices for those transports at the same time. If payment was delayed, then the invoices were also sent in a group to the debt collection service for processing.
But COVID has changed that. Service providers are no longer willing to wait as long once payment deadlines have passed, and they are more likely to send individual unpaid invoices for collection. Overall, however, we are finding that we are seeing more invoices paid on time, which contributes to a company's economic viability.
What do transport and logistics companies need to improve in order to optimise their transport processes and increase their profits?
There are some problems you can avoid right from the start. Transport processes are often still quite analogue. That means that there is more potential for error during processing.
Goods must be transported from A to B. There is no way to move that process online, but there are so many surrounding processes that can be improved upon. For example, delivery notes confirm that the goods have been delivered. This is the start of a process that takes a long time and is vulnerable to errors, particularly when deliveries are subcontracted out four or five times. The delivery is confirmed in the bill of lading and the proof is passed on to the next person – along every step of the transport chain. A classic CMR has four copies, it is the main proof that the transport has been carried out, and therefore proof that the contract has been fulfilled. Because of that, anyone involved in transporting the goods wants an original copy of the bill.
But this proof of delivery is only rarely sent to the transport customer immediately after the delivery is completed, because it remains in the truck, often travelling along on multiple subsequent delivery runs before the driver returns to the office. That means the receipts required to settle the bill are late right from the start, which in turn delays payment for the order. When orders are processed in this manner, there is an additional risk that delivery notes will not be handed into the transport company correctly. If the original document gets lost in the post, proving that the job was done can be complicated. Copies are often not accepted as a means of tracking delivery, leading to a complicated series of messages between transport customer and service provider that can cause difficulties. But a digital version makes things easy.
How can digitalisation help the logistics industry, given the current situation?
Switching to electronic document management can be particularly helpful right now, because in the current situation, many people are working from home, and so offices are not always occupied. This makes it even more difficult to exchange paper documentation. In contrast, digitally managed documents are quick and easy to process. In Germany, there is no legal reason not to use electronic proof of delivery. Many people are unaware that here, a scanned or copied document is considered adequate proof in a court of law. And transportation files are usually digitalised for tax purposes anyway.
So companies could simply digitalise their documents earlier in the process?
The question that transport customers want answered is whether the goods have arrived safely. There is no reason that a scanned document cannot provide that answer. My tip: check whether your processes can be digitalised and, if so, agree to do so right from the start. Electronic communication can be used to facilitate any open questions, ensure communication runs smoothly and set terms of payment. If it is truly necessary, original documents can be sent afterwards by mail. Both parties should have the goal of making payment as easy as possible. That saves time, money and effort.
My guess is that COVID will expedite use of electronic transport processing methods. After all, there are so many logistics processes that could easily be completed digitally. And that includes payment processes.
You have unpaid invoices? Hire TIMOCOM's debt collection service! It's a simple online process, and you can calculate the costs in advance using our fee calculator.
Hire the debt collection service now
You may also be interested in:
Debt Collection Success Story: Mega Pol Trans uses the TIMOCOM international debt collection service
How important are digital networks for the future of logistics?
How to plan customised, data driven transport for products you manufacture