IFS Certification – the biggest advantages for industrial and commercial companies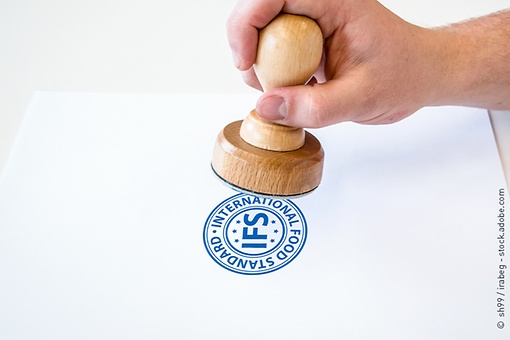 Manufacturers of home brands, in particular, have to meet consumer needs over the long term. And consumers are focusing more and more on sustainable purchases, whether they are buying food, electronics, clothing or transport. 62 percent of Germans questioned for the Sustainability Survey 2020, carried out by Facit, said that avoiding use of harmful chemicals during food production was important to them. Reducing packaging waste was relevant to 56 percent of survey participants. The IFS (International Featured Standards) supports manufactures, commercial companies and service providers with quality assurance in light of higher consumer standards and has been recognised by the GFSI (Global Food Safety Initiative).
55 companies active on TIMOCOM's Smart Logistics System have an IFS certification, and have made it and other similar certifications visible in their company profiles. These service providers can perform logistics services for you in accordance with strict IFS guidelines. The tenders application is one way to find suitable service providers within the System.
Discover the most important information on the IFS Food certification below.
IFS Food – competitive advantage via sustainable food safety
Companies who gain certification for their products in accordance with the IFS Food Standard show their customers that they are committed to food safety during every stage of the production process. This means being very transparent in regards to the manufacturing process, from the raw materials to initial packaging of the final product. The certification requires implementation of the highest safety and quality standards across the entire manufacturing process. Food produced in compliance with the IFS Food certification also fulfils legal requirements set out in German legislation.
Certification in accordance with IFS provides the opportunity to stand out from the crowd, in terms of both production and marketing, by
Optimising, strictly following and monitoring manufacturing processes
Increasing product quality
Reducing the number of product recalls and liability risks
Making good use of resources
Reducing production waste
Saving time and money
Guaranteeing safety for all stakeholders (suppliers, customers, consumers)
Improving trust in your products and increasing customer loyalty.
 
Careful planning required: IFS Certification
Companies that want to achieve IFS Food certification should start by getting familiar with the certification criteria and the audits required for the certificate.
Measures to take before applying include
Educating employees about the certification and ensuring every company employee is on board
Implementing a quality management system
Determining and logging potential risks based on HACCPprinciples
Implementing suitable manufacturing and hygiene practices in accordance with GMP
Extensively researching information on both the IFS certification and its legal basis.
Audits: how to prepare, the process, and subsequent rectifications
Once the company has prepared adequately for certification, it will be subject to a series of audits. In the ideal scenario, certification may even be granted after a single audit. An optional pre-audit offers the opportunity to make any necessary changes before the official certification audit is carried out. The IFS Software auditXpress offers excellent support in the lead up to the pre-audit.
According to the TÜV Rheinland (German Technical Inspection Association) website, the there are six audit and inspection steps:
Pre-audit (optional)
Documentation inspection
Certification audit
Certification and subsequent entrance into Certipedia, the online certification database
Yearly follow-up audit
Recertification after three years, ongoing improvement processes
The company hoping for certification can select the certification body that carries out the audit, and the same auditor will be in charge of the entire audit process. Because the certification is awarded to specific products, audits may only take place when the product awaiting certification is actually being produced. In addition, those in charge must be present on site during the audit.
You can find more details on individual steps in the certification process and a list of certification bodies here.
New IFS Food V7 valid as of July 1 2021
Starting on the 1st of July 2021, requirements in accordance with IFS Food 7 will be put into place. The new standard is based on the current IFS Food 6.1 standards. That means that as of July this year, all IFS certified food production suppliers must comply with the new standards. The improvements made for the IFS Food 7 include, among other things, a stronger focus on the assessment that takes place on-site at the company, which will count more towards certification in the future. Food safety culture has been added to the requirements, and will become one of the most important criteria.
Standards and development programs for transparent supply chains
When the standard was introduced in 2003, it was focused on food safety. This is reflected in the name: International Food Standard. The standard was created as a cooperative effort between the Handelsverband Deutschland (German Trade Association, HDE) and the Fédération des Entreprises du Commerce et de la Distribution (French Retail and Wholesale Association, FCD). The number of available certifications has since grown, and now includes both household and hygiene products.
IFS Standards and programs
IFS Food 7
IFS HPC
IFS Food 6.1
IFS Wholesale/ Cash & Carry
IFS Logistics 2.2
IFS Broker 3
IFS ACsecure 1.1
IFS Global Markets Food
IFS Global Markets Logistics
IFS Global Markets HPC
You can find information on the standards and programs in the list of IFS International Featured Standards.
IFS Logistics: the certificate for logistics service providers
Logistics companies can apply for IFS Logistics certification. This certification focuses on specific requirements in the logistics industry, for example storing and transporting (un)packaged foodstuffs.
H2: Certificates: excellent advertisements for your company
Seals and certificates prove to your customers that they are doing business with a trustworthy company. After all, you place value on quality and safety standards, so it makes sense that your customers do too. Awards increase your chances of breaking into new markets and establishing your company on an international stage.
A great way to do this as an IFS certified manufacturing or commercial company is to join a European network consisting of more than 45,000 verified companies. As an existing customer, you have the opportunity to upload your certificates to your company profile and garner more attention for your services. 
Test TIMOCOM's Smart Logistics System for free to get in touch with certified business partners
You may also be interested in:
How the ISO 22000 opens up new markets for your company
How important is quality management in a company?
Smart Logistics is the most important factor for promoting growth and improving cost efficiency