Catapulting towards the future: How covid-19 is driving digitalisation
30 years of internet and the change happened overnight. The pandemic has brought a wave of digitalisation to UK, and it is here to stay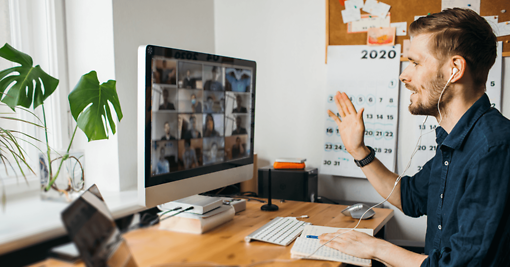 It happened so suddenly: UK entered lockdown at the end of March. The entire country was subject to social distancing, and suddenly its inhabitants' lives were focused on a single location: their home. Some companies had decided in advance of the lockdown that their employees would work from home, provided they had the option of doing so. Those who had not yet made any home office provisions were suddenly forced, more or less overnight, to create options for mobile work independent of location – in a world in which mobility was no longer an option. The stress was incredible, but the revolution started by covid-19 has not yet come to an end.
Paradigm shift
Things are on the move, lockdown or not. Changes that were hardly imaginable are suddenly a reality; everyone is working from home, conferences are moving to online-only settings, and processes that were previously mostly analogue are now subject to digitalisation. The pressure to be present in the office has made way for the first remote-work revolution – necessarily.
Companies that were ahead of the curve when it came to the digital transformation had almost no trouble devising a new way to work. But for many the challenge was a difficult one, including for some in the logistics industry. Two factors made all the difference: technical infrastructure and the people involved.
Homo digitalis? 
One major interruption that covid-19 brought with it was the social distancing, which might better be described as a physical distance. In order to protect ourselves and each other, we still have to maintain a minimum distance of 2 metres to other people – with far reaching consequences. To maintain the required distance, offices across the country were emptied out and people had to set up at home. And so the time for digitalisation had come, as even the hard-core sceptics had to move many areas of their life, including work, online. There was simply no time for concerns or discussions. Trial and error, or 'just do it' was the name of the game.
Social interactions and professional cooperation had become digital. It was no longer possible to rely on tried and tested processes. Adapt, adjust, rethink This all took place at a whirlwind speed, and in many places the adjustment is ongoing. Words such as agility and flexibility were doing the rounds even before the crisis. And now we are seeing who has created the right environment for such ideas to thrive, and who has yet to make the leap.
The transformation process, sped up due to covid-19, makes it even more imperative to provide employees with support and professional development opportunities. Many managers are now pleased to learn that their teams are able to be productive while working at home, and that cooperation can work just as well digitally. And yet many companies are having problems mastering the digital transformation. This is due not just to a lack of technical equipment, but also a lack of expertise.
The current acceptance for the digital may lead to a leap forward into the next phase of the digital transformation. Away from the myth that specialist knowledge is required and towards a more practised use of digital applications and technology. This will require companies, despite the covid-19 crisis, to invest in training measures. This momentum must be maintained going forward, because the digital transformation is a challenge that must be faced regardless of covid-19 and the contact ban.
Survival of the fittest 
Despite UK's ranking as the 8th in terms of digital transformation according to the Digital Economy and Society Index published by the European Commission in 2019 it was no advantage as covid-19 suddenly appeared. Many companies experienced difficulties with the sudden demand for digital transformation as they were not prepared for such an abrupt change and the necessity of creating digital home working on such a short notice. The logistics industry was no exception.
The virus provided the first, admittedly unwelcome, push towards change.  Those who want to survive this crisis had to and will have to digitalise – there was and is no other option. This is particularly true for logistics, which is absolutely an essential industry. However, it remains to be seen whether this transformation will result in a truly digital economy.
But some developments will prove to be irreversible. For example working from home, which has led to even the smallest companies digitalising their processes.
Digitalisation was on the way even before covid-19 arrived. The difference is that the urgency has now become much more apparent. And yet companies are sometimes missing basic digital infrastructure. Many logistics companies are already much further along in terms of digital transformation and repositioning their processes, products and services. Some key phrases include AI, blockchain, machine learning, visibility and automation. Integration of or connection to market participants, digital applications and processes play an important role for establishing standards and ensuring that logistics is not just digital, it is also smart.
The cost of digitalisation?
According to a white paper published by PwC in April, smart logistics is the key to the success and the motor for the supply chain ecosystem of the future. The savings potential offered by smart logistics may be as high as 50 percent. To make use of this potential, companies require relevant digital infrastructure and specialist expertise. One thing has been made clear by this crisis: logistics companies will go the extra mile for their customers, but many are still miles away from completely digital processes. This is in part due to the heterogeneous nature of the industry. The market is made up of small hauliers with a fleet comprising perhaps four vehicles as well as freight forwarders who have already made the switch and are working with automation and data-bases.
One common obstacle to implementing digital technologies is the concern that doing so will be expensive. However, the cost could be offset by potential savings over time. Delaying investment may in fact make the costs even higher in the long run. And the digital transformation does not have to be associated with high investment costs. There are multiple systems and platforms that allow for processes to be digitalised, all without having to purchase a variety of individual solutions, or that will connect to existing systems with the help of interfaces. There are so many options waiting to be taken advantage of. Right now, UK need to keep the virus in check and come through the crisis ahead of the curve. We should use the head start we have on controlling the virus as an opportunity to increase digitalisation and gain the advantage there too.
Gain the advantage
Working flexibly and agilely thanks to the digital transformation is a deciding advantage in an increasingly volatile world. Adapting quickly to a new situations means, in turn, the ability to more easily switch from reacting to acting self-sufficiently – transforming what seemed like a disadvantage into an advantage. The push for digitalisation as an answer to the covid-19 crisis should not lose momentum due to a return to deceptive normality. On the contrary. Now more than ever we must rely on efficient, well-functioning digital tools, in our private and professional lives. According to virologists and epidemiologists, this will not be the last viral pandemic experienced by humanity. Digitalisation has proven to be the most important tool we have during this crisis for preserving our economy and society. And it is vital for the logistics industry, which is responsible for ensuring that everyone has access to what they need, both before, during and after the crisis.
According to a survey carried out by the Government Office of Science, 44% of the transport and logistics sector view digitalisation as an opportunity. So why not make use of this time and the advantage we have? The path is clear.