Logistics expertise
19.11.2020
How data integration optimises logistics processes
Integration and its use-cases in the FreightTech sector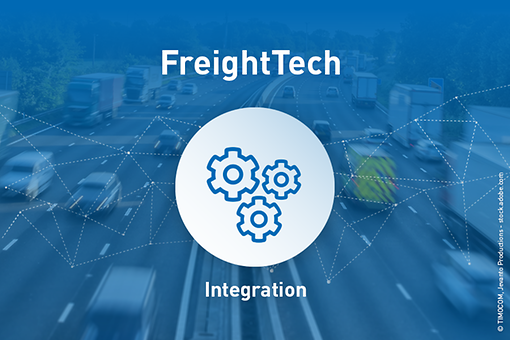 The goal of integration is to ensure the best and most useful features and functions can work together. Integrating data and digital applications also offers many opportunities in the logistics industry. Data integration helps to optimise business processes for all participants, improve planning and avoid errors. That saves time and money.
Combine data and functions
Data driven decision making and processes are gaining in importance. Already, people are making use of algorithms that use data to optimise workflows. In an IT context, integrating data and applications predominantly means bringing different systems together.
Data integration describes a special method used in software engineering to connect various digital applications to one another. Smaller components are implemented in a unified system that then combines the different application functions. The data and functions contained in these smaller components become part of a larger, more comprehensive system that users can access. Integration aims to reduce and avoid additional interfaces. Data integration, functional integration and integrating business processes are different aspects of integration.
Optimise business processes and reduce transcription errors
These days, business processes are largely digital.
Integration, e.g. for customer services, allows direct access to all relevant data on a business partner. For example, customer data could be automatically displayed in connection with caller ID when the customer calls, or relevant documents can be opened directly when viewing business processes (e.g. immediately opening a transport order). Switching between different systems, databases and applications is thus a thing of the past, which saves time, resources and of course money. This principle can be applied to logistics.
Integrated telematics data in TIMOCOM's System
For example, TIMOCOM's Smart Logistics System has a variety of integrated components that can be used in combination. 265 telematics providers are connected to the System via the tracking application. They can all be viewed on an integrated map, and you can give your business partner's permission to track their shipments. Granting transport customers temporary permission to view GPS location data and use of the tracking feature combined with loading dock management, e.g. from Cargoclix, can help to organise delivery of transport orders at their destination. This method avoids additional interfaces to further programs, and simplifies and optimises work processes. Both service providers such as dispatch companies and freight forwarders, as well as transport customers from the logistics, commercial and manufacturing industries, can profit from this approach. After all, when it is easier to plan, internal processes can be better organised, saving time and money. The transparency that transport companies can offer to their customers builds trust and offers a clear competitive advantage.
System compatibility helps avoid errors
It is very important that the different systems used in many companies, such as CRM or ERP systems, are compatible with or can be connected to other applications. When this is the case, entries no longer have to be made manually, and information on business partners and transport orders can be transferred to internal company software  (such as a TMS) with just a few clicks. In turn, and of course, data from a freight forwarding company's Transport Management System (TMS) can be transferred to a closed system such as the Smart Logistics System. The data can then be used, for example, to create a tender or a freight or vehicle space offer in the freight exchange . This helps to avoid incorrect entries and data redundancies such as double entries or manual transcription errors – an additional advantage provided by integration.
Optimise processes with TIMOCOM
Integrating data and applications offers many optimisation opportunities for logistics processes in the road transport industry. It allows systems to offer features that exactly match the needs of the logistics industry, providing massive advantages across the entire supply chain. Applications and services offered by FreightTech companies such as TIMOCOM provide digital solutions that can even be integrated with your existing systems in order to optimise individual processes. Discover the possibilities now by learning how the Smart Logistics System can support your work.