How to improve international road freight between the UK and EU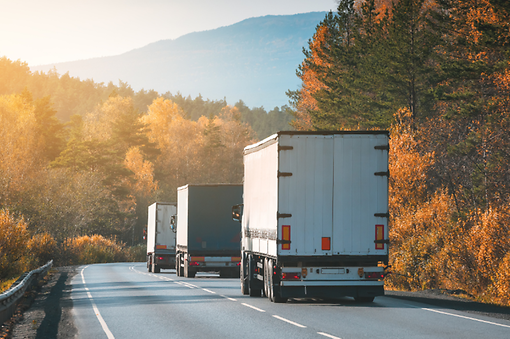 Nearly 78% of all goods moved in the UK were transported by road.  But importing goods from the EU by road has decreased significantly in the past couple of years.This has meant a reduction of £14 billion between 2020 and 2021. While there are many challenges for UK-registered vehicles importing international freight, there are solutions that could improve your efficiency and your profit margin.
We'll discuss these ways to help international freight shipping and the current situation in the UK. And if you need any advice, please contact our TIMOCOM consultants.
International road freight activity in the UK
The European Union road freight transport has increased in 2021 by 6.5% but road freight activity by UK-registered HGVs transporting freight internationally has decreased.
There were 2.8 million tonnes imported to the UK in 2020 which is down by 17%. With 88% of those goods being loaded in either Belgium, France, the Netherlands, Germany, or Ireland. And if we look specifically at goods moved (overall activity of UK-registered HGVs) between 2020 and 2021, we observe a decrease of 15%.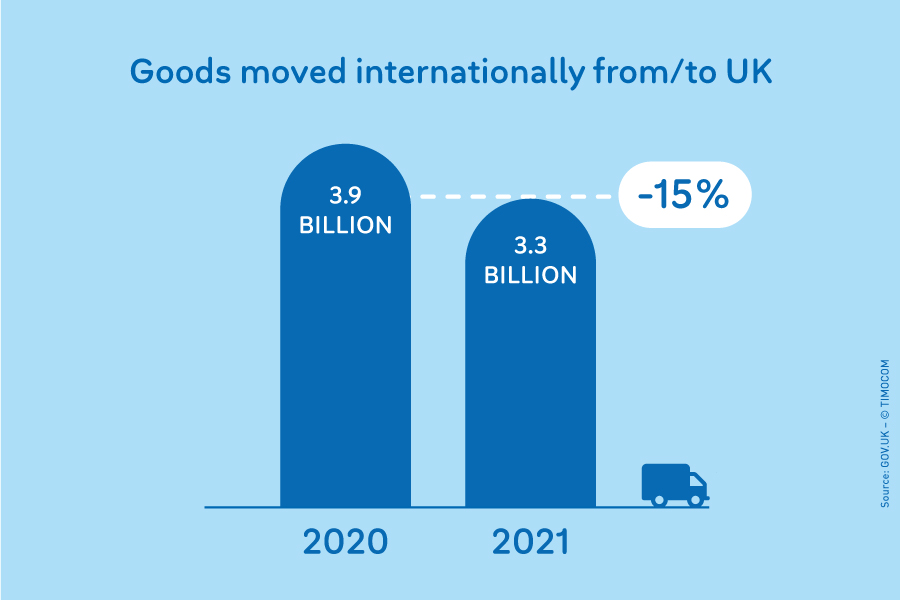 The decrease in goods being transported by UK-registered vehicles from the EU has meant while global trade has recovered after Covid, the UK has not.
Challenges for UK haulage firms transporting to the EU
The reason for the decrease in goods being transported from the EU to the UK is mainly due to Brexit. There have also been issues with labour shortages, increases in energy prices, and changes in demand.
Brexit
Changes to how goods are imported from Europe has increased waiting times at UK and EU border points.The movement of goods rules are being interpreted differently at various ports, causing inconsistency and confusion which has led to international cargo being stuck in transit.
Almost 74% of companies have experienced or continue to experience international shipping delays in the past three months. These delays can be between one and two weeks.This has led to an increase in cost for over half and over a third of companies have lost revenue and potential business.
If consumers in the UK can't get their goods from the EU on time, they start looking for local suppliers instead which has resulted in fewer imports coming from the EU.
Additional paperwork
The filling in of extra admin has been the top challenge faced by importers. Just under half of companies found that additional paperwork was causing them delays in international freight shipping.There is a whole new set of regulations that importers must face.
If you are bringing in goods from another party, you need to agree who has responsibility for clearance requirements, including import VAT, duties, and customs import declarations.
You must have a special license to import items for some types of goods such as animals, medicines, or chemicals.
You also need to ensure VAT is completed correctly or your goods may be denied entry until the VAT is paid.
You may also need to complete import declarations and you may need to have monthly returns itemising the arrival of goods into the UK from the EU.
All this additional paperwork is not only tiresome, but it means it can be more expensive to trade with the EU which impacts profit margins.The UK chose to gradually introduce border requirements for imports from the EU throughout 2021 and 2022, which could mean the impact has yet to be fully realised.
Licensing changes
From August 2022, there has been changes to licensing which has not helped UK registered vehicles importing from the EU.All licenses must now be done online, and paper applications are no longer accepted. You must register on the online system and make your application whether you are getting a new license or already have a license.
Another change from May of 2022 is to the EU rules on operator licensing.
If you operate a light goods vehicle or a trailer between 2.5 and 3.5 tonnes in an EU member state, you must have a goods vehicle operator's license.
If you already have a goods vehicle operator license, you will need to add the additional LGVs or get this license for the first time. To apply for this license, you must meet certain criteria including proving you can safely run operations, manage your drivers, and vehicle maintenance, along with other requirements.
This is an additional expense for companies who need to pay £254 for a new operator's license or making changes to one. Not only that, but you must also pay £449 in a licensing fee which lasts for five years.
After the five years, you must pay another £449.
Supply chain issues
The problems in the supply chain have been a result of Covid which has meant ports closing, stockpiling, and a lack of staff. This has all contributed to the delays in international cargo shipping and some countries pausing exporting to the UK. There were 17% of German companies who stopped exporting to the UK, at least temporarily.
International freight solutions
It is difficult enough running a business, but these added challenges are only serving to make matters worse for international freight services.
Using a freight exchange to find loads, bid on tenders, and advertise your services could make a huge difference to your business.
TIMOCOM's marketplace connects you to an international freight network of road hauliers, international freight forwarders, and manufacturing and trade companies all over Europe.
There's no need to carry half loads or suffer from changing demands. When you find goods on our marketplace, it will improve your efficiency and your revenue. It can also help you to cut your carbon footprint by saving more than 20% in carbon dioxide emissions per kilometer.
You can use international freight tracking for each of your vehicles which helps you to be more flexible, should there be delays, to avoid losing out on revenue.
If you want to start improving your business, contact us today or try it for free.