Logistics expertise
21.01.2021
AI and Automation Offer Competitive Advantages to Companies both Large and Small
Automation processes and intelligent applications in the logistics industry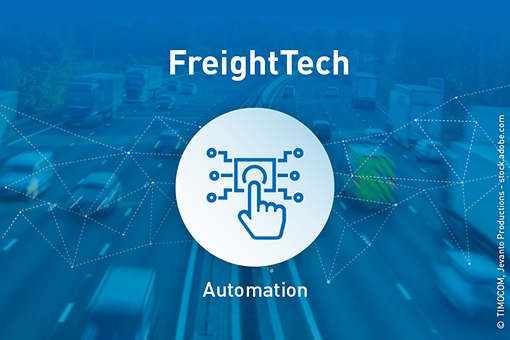 Complex connections between multiple supply chain participants mean that the logistics industry is an ideal incubator for developments in data supported decision making. According to a study by Roland Berger, increases in data analysis by automated and intelligent applications will, over the course of the next few years, have a pioneering influence on the logistics industry. Large logistics and FreightTech companies are already developing data-based solutions that capitalise on the advantages offered by automation and artificial intelligence. But smaller logistics partners, plus freight forwarders and road hauliers, can also profit from these advances.
Automation and artificial intelligence in the logistics industry
Every third kilometre driven by a truck on German roads is an empty run. Surely we can do better. Artificial Intelligence (AI) offers a unique opportunity for improving route efficiency using data that has been recorded and analysed, for example on traffic conditions and vehicle capacities. Tours can thus be combined in an intelligent manner and routes planned optimally, which will reduce empty runs while simultaneously improving efficient use of available resources.
But AI is already optimising much more than that. Shortly before a truck arrives at the loading dock, warehouse employees can prepare for its arrival, speeding up the process of loading or unloading goods and getting the truck back out on the road in no time at all. Artificial intelligence is already helping to improve organisation in the supply chain. Automating these types of work processes is one of the logistics industry's main challenges. Use of intelligent applications will continue to automate processes in the future. This will save time and money and reduce manual labour to a minimum.
Examples of automated processes in the logistics industry
There are already plenty of examples of automation and artificial intelligence being used successfully in the logistics industry. For example, dispatchers can use logistics systems to find the right transport partner and integrate digital features into the supply chain. Real-time tracking allows companies to react dynamically to disruptions in the supply chain, from traffic jams to accidents to supply bottlenecks. Comprehensive testing of some of these methods has already been carried out for last mile transportation, e.g. using delivery drones, self-driving vehicles or even the use of 3D-printing for customised or urgent deliveries. For consumers, in particular, these innovations may prove to be fast means of delivery not subject to traffic conditions.
Automation is also being used more frequently in warehouses, for both mobile and static systems. Robots and self-driving vehicles work together to sort goods, select the right item and deliver it to its destination; as preparation for external delivery or even as in-house optimisation of the warehouse space. The advantages are clear: processes are slimmed down and organised more efficiently, saving time, which in turn saves costs. Not only that, automation of these processes means that people are no longer required to carry out dangerous work or work that has long-term consequences for health, such as carrying heavy loads. Plus, there is no need to worry whether the machines are obeying guidelines and rules: from labour laws to complex handling of specialised freight, they literally cannot go against their programming.
Automated systems also provide an advantage to truck drivers: automated documentation, digital contracts and systemic selection of suitable load insurance all save valuable time and avoid errors.
AI and automation for logistic partners large and small
In a recent study by consulting firm PricewaterhouseCooper, more than 1,600 managers from 33 countries said that their most important task for the future is improving efficiency in the supply chain. But how can road hauliers increase efficiency using automation and artificial intelligence? It will almost certainly be years before truck drivers can turn on autopilot and sit back and relax, as aeroplane pilots do now. Changing traffic conditions, bad weather and an increased number of cars on the road mean that road transport companies face complicated challenges requiring special solutions. But that does not mean that hauliers cannot make use of current technological developments. Even small and mid-sized companies need a basic amount of digital competence if they want to remain competitive on today's market. Data and information can and should be exchanged smartly, safely and simply within the transport chain.
TIMOCOM's Smart Logistics System and its associated tracking, transport orders and freight exchange interfaces allow large and small logistics companies to connect their in-house IT systems with TIMOCOM's applications. But how do these interfaces help? Orders can be automatically accepted and shared with other supply chain participants. Digital data management and transfer of all required information creates seamlessly interlocking processes. This helps to avoid empty runs, make more efficient use of vehicle space and track deliveries in real time. There is no longer any need for time-consuming, manual data entry, switching back and forth between programs or navigating language barriers, eliminating potential sources of error and slimming down complex processes.
Improve security, planning and productivity
Using artificial intelligence and automation for logistical processes increases security, planning and productivity. The FreightTech revolution has no intention of removing truck drivers from the supply chain. On the contrary. According to statistics from the Bundesverband Güterkraftverkehr, Logistik und Entsorgung (German Federal Association for Road Transport, Logistics and Disposal), there is currently a deficit of 60,000 professional truck drivers in Germany, and the German union verdi puts the number even higher, at 90,000. The increasing dependence of our society on international supply chains and the expectation that said supply chains be transparent and efficient shows, on the one hand, how important the industry is and will continue to be in the future, and on the other hand the relevance of data-based decisions for smooth processes that save resources. Clearly, AI and automation will provide digital support for human workers, allowing them to focus on more important tasks and minimise the risks associated with late deliveries, hazardous goods or intercultural barriers such as language or constantly changing laws. Our goal is to allow small and mid-sized companies to do just that.
Find out how you can make your logistics processes smarter and safer:
Try the Smart Logistics System now
You may also be interested in:
Futuristic logistics technologies: Artificial intelligence: vision and reality
How data integration optimises logistics processes
FreightTech: How digitalisation is transforming logistics