Logistics expertise
07.12.2020
Advantages of freight exchange for freight carriers and forwarders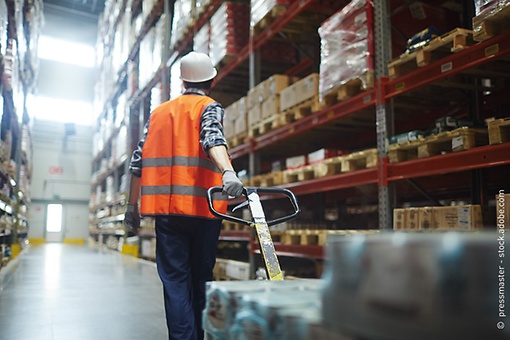 The logistics industry has been especially slow to the digitalisation game. Online freight exchange platforms are set to change that, as they are already revolutionising the business. With access to hundreds of thousands of jobs a day, precise dimensions to accurately fill trucks with cargo and making dead mileage a thing of the past – for hauliers, carriers and transportation companies, there is no time like the present to subscribe to a freight exchange.
Time to digitalise: why online freight exchange is more essential than ever
After years of stark imbalance between the analogue and the digital, the COVID-19 pandemic has drastically accelerated the digitalisation of the logistics industry, in order to keep drivers safe from coming into contact with the virus and to ensure that loads are optimised. This means two things when it comes to online freight exchange:
During the current circumstances (i.e. the pandemic), now is an excellent time to digitalise your system and move booking jobs to an online freight exchange platform.
Times are changing. To remain competitive, it is essential to make use of what an online freight exchange system can offer your business.
Essentially, if you have not yet subscribed to an online freight exchange platform for your haulier or carrier business, it is high time that you made the switch. Let us explain why.
Freight exchange: the logistics management solution
Put simply, a freight exchange is an online platform that connects companies offering cargo space with companies who have goods to be delivered. Transport companies and hauliers can advertise their free cargo space on the platform, making it easy for suppliers to browse through the list and find the ideal partner, or for goods to optimise load capacity on every journey.
Due to the vast number of trade and production companies searching for hauliers on an online freight exchange, it is easy to book extra jobs to ensure that trucks are taking the maximum load possible. For example, if a truck looks like it will be going out half-empty, the haulier can look for someone seeking cargo space on the freight exchange platform and arrange to take their goods too. Not only this, by advertising the maximum capacity your truck can take, it is easy to seek and allocate freight accordingly, to make sure that you are making the most you can each trip. On the online freight exchange platform, you can search for freight according to:
The dimensions of the cargo to be transported, in order to optimise space in terms of width and height of the goods.
The geographic location, so that trucks can take loads needing to be shipped in the direction in which they are already travelling.
More and more common among larger corporations, the concept of a freight exchange should not be unfamiliar to anyone working in logistics, or even in industry and trade more generally. Nevertheless, the usage of freight exchange platforms is still not especially high among small- to medium-sized businesses, meaning that there are plenty of links in the chain that are yet to benefit from the advantages of online freight exchange.  
Why should hauliers use a freight exchange platform?
Arranging to ship goods can be an extremely time-consuming and labour-intensive process, requiring coordination between multiple shippers, manufacturers and recipients, across borders with different laws and paperwork in multiple languages. A traditional, analogue system also does not provide much flexibility in the event of delays, cancellations, or last-minute changes to the amount of cargo space. Building up several reliable partnerships with shippers, hauliers or suppliers means that you can have faith in these contacts – but if something falls through, how can you begin to find a new, trustworthy partner? An online freight exchange saves you the time and effort of calling up your preferred partners to try and rebook jobs or pick up additional cargo to monetise the return journey.  
How can freight exchange solve common logistical problems?
Freight exchanges provide not only solutions to the aforementioned issues but opportunities to turn them to your advantage. Here are some potential hitches that would normally cause hours or days to sort out, but which a freight exchange would solve in minutes:
Over/under-booking cargo space. An online freight exchange platform means hundreds of thousands of people looking for carriers for their goods, on all sorts of different routes. For hauliers, this means jobs are coming through all the time, so you can easily find extra cargo to transport if you find yourself underbooked. If it's overbooked, no problem – you can easily subcontract out the job to another truck in no time.
Delays. Real-time tracking of goods means that your customer can get a heads up of any delays.

You don't have to waste the trip by returning with an empty truck: find new goods in minutes through the platform to take back with you.
Benefits of freight exchange platforms for logistics businesses
Freight exchange platforms are not only helpful in a crisis. Subscribing to an online freight exchange service is an investment that will provide long-term benefits to your logistics company, whatever its size, whether you are a shipper, carrier or haulier.
Freight exchange: time, space and cost efficient
First and foremost among its many advantages, an online freight exchange platform will quickly see you saving time and money. Instead of the erstwhile arduous process of calling individual companies to offer haulier services or look for jobs, simply searching according to routes or cargo size on a freight exchange platform will show you reliable partners instantly. This frees up ample time to spend on other areas of your business.
How freight exchange benefits hauliers
There are myriad reasons why subscribing to a freight exchange platform will be cost-efficient for your company.
Optimise the round trip by finding a back load. There are an estimated 400 million miles wasted every day among road hauliers in the UK. The sheer number of partners available on a freight exchange means that you can avoid the fuel costs of dead mileage – both more economical, and eco-friendly.
Optimise cargo space bookings. Freight exchange platforms allow you to use every inch of your cargo space, making sure that you are taking into account the weight, width, breadth and height of each piece of cargo. Hauliers can take the maximum amount of orders possible, while shippers and forwarders have more opportunities to book space.
International orders. More profitable than domestic orders, a freight exchange platform will put you in touch with far more international customers and routes than you might find searching only for partners within your region. Plus, organising orders through the platform surpasses the language barrier and will simplify the paperwork – earning you higher return on investment, for less effort than you would otherwise need to expend.
Why should SMEs use a freight exchange?
Small- to medium-sized providers are currently the main holdouts when it comes to using online freight exchange platforms. This is likely due to multiple factors: perhaps the initial cost of subscription to a freight exchange platform or relying on long-standing relationships with partner companies.
Alongside the aforementioned benefits that freight exchanges offer your savings and your time, small- to medium-sized hauliers and transport companies will arguably profit most from subscribing to a freight exchange service, making it well worth the cost of entry.
More customers, more contacts, more business opportunities
For newcomers to the industry, it can take years to build up the relationships needed to ensure steady cash flow and reliable business. Using a freight exchange platform puts you in touch with more partners on more routes than you would meet in years in the game. Building a wide network of customers and contacts is absolutely essential to keeping your business running and, for hauliers, to reduce that dead mileage. The more customers who trust you, the more jobs you can book: this is how you both keep afloat with a constant stream of work, while also having the pick of freight to keep every truck packed to capacity on both trips. A freight exchange gives you the opportunity to build up this network by granting you access to such a broad spectrum of customers and opportunities.
Support for hauliers  
Subscribing to a freight exchange platform can provide small enterprises with additional support that would otherwise require more resources, a larger workforce or more training. Here are a few examples:
Ensuring that you get paid. Independent hauliers are especially vulnerable in the event of delayed payments. TIMOCOM's Smart Logistics System freight exchange platform includes a debt collection service so that a third party can intervene on your
behalf, saving you time chasing invoices.
Streamline paperwork. On a freight exchange platform, it is much simpler to track orders and exchange documents, especially for international orders with more complex or esoteric legal restrictions (and in a foreign language).
Compete with larger businesses. With the diversity of offers and loads available, adjustable to specific routes and rates, smaller hauliers and carriers can take on many more customers, with the option of forwarding on orders should they not have the workforce immediately available to fulfil them.
Subscription-based freight exchange: the professional choice
As a logistics professional – whether a haulier, carrier or dispatcher – you will need to make regular use of a freight exchange platform. Of the multiple kinds of freight exchange platforms, undoubtedly the best choice for freight forwarders and dispatchers would be a subscription-based platform. Every package is different, with specific benefits that may better suit your business's individual needs, e.g. advertising on the platform for an additional fee, mobile features, and more.
We would recommend that you join the over 130,000 users of TIMOCOM's Smart Logistics System. Our freight exchange system gives you all the flexibility you need as a freight forwarder or dispatcher, with access to up to 750,000 international freight and vehicle offers a day. You can start your free trial right here.