Default risk 2023: is the logistics industry about to grind to a halt?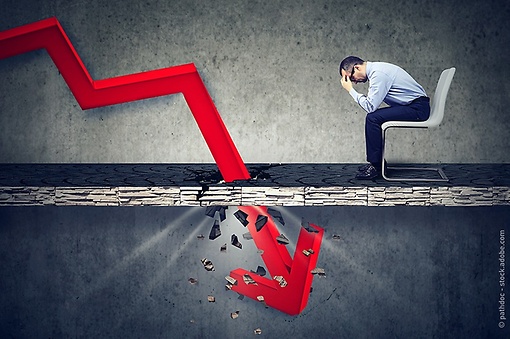 According to a study recently published by BondIT, an analytics platform, one in five UK companies is likely to face rating downgrade risk. That means that 18,8% of corporate bond issuers in the UK could have their credit rating lowered as economic pressures increase their likelihood of defaulting. Other experts are also issuing warnings regarding potential risks that could seriously affect both the transport sector and logistics industry.
According to these experts, the risk of a business becoming insolvent will rise significantly in the coming months. Small and mid-sized companies, in particular, as well as the road transport industry , could be particularly hard hit. It is essential that companies act now to examine and prepare for potential risks in order to survive these uncertain times.
Default rates: definition and current situation
A probability default is a risk parameter used in banking supervision law to measure credit risks. The default rate therefore describes the percentage of companies that, for a variety of different reasons, are no longer able to pay their debts and thus become insolvent. To measure this rate, banks use a bankruptcy prediction process that determines the risk of insolvency and therefore the likelihood that a company will become insolvent within the next year.
Creditreform Rating AG has now published information on the status quo as well as a forecast for 2023 in their latest study "Default Rates in the German Economy." It is important to note that the study looks at 2.55 million companies. It is thus a complete survey, not an estimate. While it is true that the rate in 2022 is 1.06 percentage points, and thus below that of last year, the agency predicts a reversal of the trend by the middle of the coming year. Then, at the latest, many German companies will no longer be in a position to pay their debts. Creditreform has calculated a default rate of around 1.45 percent for the entire German economy, the highest value in 6 years.
The road transportation industry is particularly notable, with a default rate of 2.4 percent for this year. That puts it in the sad position of being the industry with the most defaults, and the numbers are expected to rise sharply once more in 2023:
Impending insolvency: influencing factors
There are many reasons for the predicted defaults: One very obvious one is the war between Ukraine and Russia. Supply chains that were already unstable due to the Coronavirus pandemic are being disrupted even further, and there are more shortages than ever. And then you have recent events such as the reduction in oil production by OPEC countries. The result is rising energy and food prices, significant contributors to current inflation rates.
Energy prices, in particular, have an outsize effect on the logistics industry and the European economy. For example, warnings regarding a potential German-wide blackout caused by rising energy prices are getting louder; those worried include the Städte- und Gemeindebund, or German Association of Towns and Municipalities. Any blackout widespread would not just affect private households; it would bring all delivery vehicles, trade companies and infrastructure grinding to a halt.
International conflicts and climate change are responsible for raw materials shortages and price increases
And it's not clear that everyone is prepared for the difficulties that would come with a a total breakdown in the supply chain: Such a blackout would not just disrupt energy supplies to private households, but might also affect petrol stations. Logistics service providers would no longer be able to fill their trucks with petrol or charge their electric vehicles. Not only that, many other resources (e.g. wood) are often purchased from either Russia or the Ukraine. Smaller companies, in particular, that rely on these goods, are even today unable to operate normally, as they cannot keep up with rising raw material prices.
Local and global events are exacerbating problems
Strong droughts, like those experienced in Germany during the summer of 2022, and the associated low water level in rivers will no doubt create a situation in which cargo ships engaged in domestic transport can no longer be fully loaded. This is a particular problem for the chemical and steel industries.
And of course, tensions between Taiwan and China are already making their mark: Car manufacturers, in particular, are having to slow production because Taiwan delivers most of the global supply of microchips. If the conflict between these two countries escalates, this will only increase the chip shortage . Microchips are an essential component of circuit boards, and therefore necessary for all electronic car components. Should microchips no longer be available, whole factories and supply chains could grind to a halt.
Improve resilience with the TIMOCOM Marketplace
The information above makes it clear that logistics companies really must be prepared to face a variety of problems. But how to start?
The Freight exchange created by the IT logistics service provider is a great way to compensate for bottlenecks at short notice. And the Marketplace also includes the Tenders application, a useful solution for securing orders over the long term to support company logistics needs. TIMOCOM Partner JITpay™, a factoring service, will pay invoices within 24 hours, guaranteeing liquidity for service providers. After all, even though Creditreform Rating assumes there will be additional government aid to come, it's not enough to rely on help from others.
Time to be proactive! The TIMOCOM Marketplace can help you keep your business from grinding to a halt: protect yourself from defaults.