The Ever Given and the Suez Canal:
why you should move now to secure transport capacity and warehouse space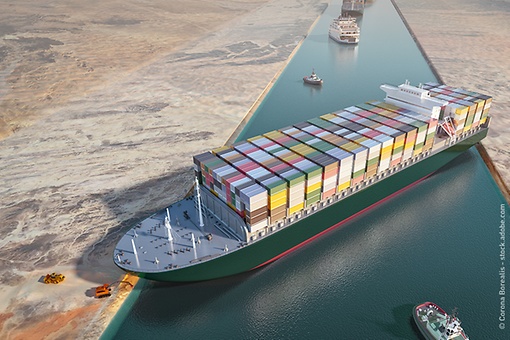 Everybody is talking about it. The 'ketchup effect', caused by the container ship Ever Given when it blocked the world's most important trade route. For the second time in a year, the logistics industry found itself under enormous pressure. But in contrast to the coronavirus crisis, the German and European road transport industry has time to prepare for the effects of this disaster, because there will be a delay before they reach our market. Nevertheless, we must assume that the accident will continue to influence supply chains for a long time, presenting particular challenges over the next few months.
It is therefore more important than ever that industrial and trading transport customers prepare themselves in order to ensure they have access to transport capacity and warehouse space at short notice. TIMOCOM's comprehensive, flexible service is their key to success.
Effect on manufacturing, trade and road transport
Around 13 percent of ships used for global trade make use of the Suez Canal (19,000 ships). These ships represent 9.6 billion dollars a day in transported goods, as recently reported by the German language magazine eurotransport. The Ever Given alone carries an estimated 13,800 containers. Most of these containers come from Asia and include important deliveries for European just-in-time manufacturing and processing facilities. The majority of container ships caught in the traffic jam likely carry the same number of containers. Not really surprising, considering that 90 percent of all container ships around the world are exactly the same size, an international standard known as "Suezmax".
What happened?
The Ever Given ran aground at the southern end of the Suez Canal on 23 March 2021. The result was a traffic jam consisting of more than 400 ships travelling between the Red and Mediterranean Seas. How much damage was done to the canal itself remains unclear. What is clear, however, is the serious consequences the accident will have for the entire European logistics industry: "Essential supply chains will be held up due to a lack of containers, late ships and inadequate transport capacities, and costs will rise" according to Federation of German Industries President Holger Lösch as quoted in the German business newspaper Handelsblatt .
A classic chain reaction – and the European road transport industry will not be spared. "The traffic jam will have an enormous impact on continental Europe over the next few weeks. Planning for road transport to the interior will require a lot of time and use up a great deal of available transport capacities," according to Gunnar Gburek, company spokesman for FreightTech company TIMOCOM. "Not only that, the available vehicle space is limited, and currently in high demand."
The Situation at European Ports
Although the canal is no longer blocked, it will take days to clear the traffic jam; once it is clear, there will be chaos at many European ports. This is because shipping traffic acts like ketchup. It can be hard to get it moving, but once it is in motion, there's no stopping it. Around 50 ships per day are now being led through the canal, arriving in ports that are already hard pressed to keep up:
Brexit is still causing traffic jams. The pandemic has led to restrictions on work and travel, which for months now have in turn reduced the number of active dockworkers, not to mention having a massive influence on European consumer behaviour. People are no longer spending money on leisure, travel and other services, and have instead switched to purchasing consumer goods, most of which come from Asia. Global trade via waterways has been running at full steam for months. It is not at all clear where exactly some products are currently located, to say nothing of where and how many empty containers were stuck on their way back to Asia – nobody really knows. However, it is clear that European ports will have to deal with an uncontrolled flood of container ships over the next few weeks.
What happens next?
Even though ports like those in Hamburg and Rotterdam are more efficient as compared to other international harbours, there will be a lot of pressure to load ships quickly, and the effects on inland traffic will be extreme. There are not enough resources, particularly in the realm of barge and rail transport, available to manage the amount of goods that will be arriving. Storage and vehicle space capacities for on-carriage transport are already limited. That is why, as one example, the Hamburg port terminal operator HHLA has already rented additional space. We have to assume that, should the first container ships arrive at the same time, they will trigger a fight for freight and warehouse space capacity. There is already high demand for road transport via truck, but that service can react more flexibly to increased demand.
Focusing on ports will be a lucrative business in the coming weeks, and may cause classic freight forwarding companies to change their priorities. Regardless of whether or not you have goods stuck on the Ever Given: now is the time to focus on maximum flexibility, in order to ensure that your own manufacturing, warehousing or delivery services can function as normal. There will be warehouse and storage bottlenecks, and time and transparency will be the most important keys to managing them successfully.
How to prepare, with TIMOCOM
We recommend that all companies take steps to secure their supply chains and counteract upcoming capacity bottlenecks as fast as possible. Use the Smart Logistics System to quickly and efficiently process your quote requests. This allows you to keep an eye on the status of your shipment even in tumultuous times, assign orders within seconds and makes digital editing or invoicing of orders simple. The System provides flexible work processes involving just a few steps and helps you to always find the right service provider. Not only that, you can access more than 7,000 warehouse spaces in 46 European countries, either within the System itself or with individual access to our warehousing exchange. Those who wish to keep using their own internal IT systems benefit from our interfaces to existing logistics systems.