Duisport Interview: Upheaval on the inland shipping market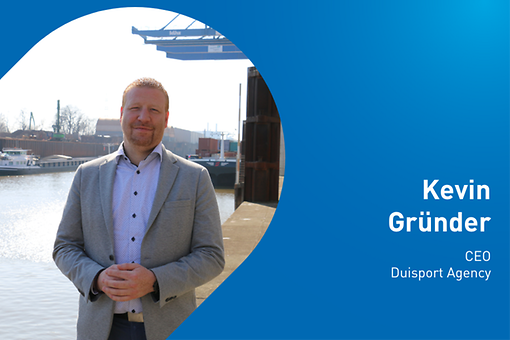 Temperatures are rising and continue hitting record temperatures, but records aren't always a good thing. For example, in Germany, the previous summer was extremely hot and there was very little rain. The resulting drought caused, among other things, low water levels on German waterways.
To examine what happened; after all, this year's supply chain emergency could soon become a regular summertime occurrence, one that will require long-term solutions. TIMOCOM spoke with Kevin Gründer, CEO at duisport agency GmbH:
"Nobody ever pays attention to inland shipping unless there are problems."
Kevin Gründer's simple statement tells us two things: inland shipping in Germany works well and is a reliable form of transport. However, when there are problems, everybody notices. Which is exactly what we saw in the summer of 2022. River levels all over the country sank, including on major rivers such as the Rhine. Ships transporting goods within Germany could still travel, but they generally had to reduce their loads. As a result, there were goods backlogs in ports, delayed deliveries, lowered production volumes, a shortage of raw materials, a reduction in profits and long wait times for products that had already been ordered, both on the part of stores and end consumers.


Mr. Gründer, the low water levels and associated difficulties for inland shipping drew a great deal of media attention during the summer, and plenty of people were concerned.
Your company, duisport, was also affected: what would you tell our readers that was like?
Well to start with, we had to rearrange almost everything, sometimes one regular ship load had to be distributed across three or four barges. Because we were forced to redistribute loads, there were sometimes a maximum of two cranes available for loading ships travelling to sea ports, depending on the terminal (there are 6 waterside container terminals at DUI). The cranes were unsurprisingly very busy, because the sea ports dictate when our ships need to get started, based on schedules for seagoing vessels belonging to larger shipping companies. This in turn led to traffic jams at sea ports, because containers were not leaving the terminals; they were stuck. The number of containers at the terminals just kept growing.
The last few months were incredibly busy, particularly for dispatchers, especially those dealing with containers. Individual containers had to be dealt with multiple times. Many had to be rebooked, and were therefore delayed or had to be moved.
And then of course there's the Ukraine crisis: lots of ships had been booked to transport grain, but then there were difficulties getting the goods to the ports. The customers then had to change their bookings and so there were additional trains running, or the goods were sent on truck shuttles  if they couldn't reach the ports.
So how does that compare to previous years, when there wasn't so much happening, or have there been similar situations in the past?
We're still feeling the effects. Temperatures have dropped and there has been rain, but there's still not enough water in the rivers. Water levels were at 5m at the beginning of October, but right now they are only at 3.50m. We just don't get as much rain as we used to, so it's likely that lower water levels are simply something we will have to work with going forward.
We experienced something similar during the drought of 2018. Thankfully, industrial customers learned a lot from that crisis. They have changed how they handle inventories, which means they are better positioned to avoid bottlenecks. We definitely saw that this summer.
Which products are most affected? And are there alternative means of transport available for those products?
In Duisburg we mostly import coal, but also handle consumer goods, such as furniture, clothing and toys. So it will be interesting to see how these developments affect the coming holiday season rush. The goods we export come mostly from the chemical and automotive industries, so things like spare parts.
The first step of one of our plan Bs is to find connections to alternative ports in the south, such as Trieste, or places like Rotterdam, Antwerp, Hamburg and Bremerhaven. We often select ports that are well connected to rail roads.
But the low water crisis has meant that additional rail connections are being created to travel to Duisburg, for example from Mannheim and Germersheim. The goods are then loaded from those trains back onto ships here in Duisburg. Thankfully, the port at Duisburg usually has relatively high water levels even when, in general, water levels are low, so these rail routes only have to cover the area between their point of origin and Dusiburg.
Of course, the customer has to decide whether they are willing to pay the price for this kind of work around.
How have the companies located at the port adjusted to these changes?
Transloading companies have broadened their options, they are focusing more heavily on railway connections. That means that business is more likely to be able to keep on even when water levels are low. In general, companies have started making sure that they have extra inventory on hand. They search for containers and store their goods at the terminals in those containers.
We have also noticed that the chemical industry, in particular, is keeping an eye on their carbon emissions when deciding what changes to make. We often book chartered trains for these companies, which simply drive directly to their industrial sites.
These types of changes also effect individuals – how are people coping?
The barge crews are really quite relaxed about the whole thing, as they have permanent contracts. But for the owners, it's a different story. Just like in the road transport industry,  not as many people are deciding to go into the inland shipping industry. It used to be the case that people talked about romantic journeys by ship, and there was a sense that this was a traditional trade passed on from generation to generation. But those times are long gone. There's so much to do, of course, and then you have the current events. People are asking themselves if it's really worth it. The current situation and the resulting need for additional ships in Ukraine has exacerbated the problem, and many company owners have jumped at the chance to sell their ships, because prices are good right now.
The container ship industry continues to be quite stable, but dry goods transport (coal, steel, ores, metal waste, etc.), that is everything transported in large volumes, is more difficult when water levels are low.


It's extremely likely that we will continue to experience periods of drought like we did this year in the future.
What plans are there for dealing with bottlenecks in the future?
We assume that barges will get wider in order to reduce their draught. At duisport, any new cranes purchased will be larger in preparation for that reality. We are also keeping in close contact with chemical industrial sites in order to optimise the connections between trains and ships. All of which is to say that our plans are quite focused on adjustments to infrastructure.


In your opinion, what is the most sustainable method for adjusting the inland shipping market in light of climate change and its effects?
First we have to recognize that water levels under 3m deep will become more and more common, not just in the summer time. And all our plans need to be based on this fact. That means rethinking ship design, especially in terms of how deep they sit in the water. Even though the Rhine has comparatively high water levels, we really need to focus more on adjusting to these new conditions, especially when it comes to container shipping.
One major challenge right now is the fact that industry actors don't communicate with each other enough; they really need to network more closely with one another. Our customer base wants to plan more proactively, and in some cases they are already doing so. But in other cases they still plan and make business deals manually. This creates gaps in communication and really affects transport efficiency, especially in times like these. Containers travel for five to six weeks, a lot can happen in that time. It's important to make sure that each ship is docked for an adequate amount of time, because otherwise delays create massive problems.
I would love to see a holistic solution, particularly for our region, which really has great infrastructure.