Logistics expertise
18.07.2022
TIMOCOM's 25th anniversary:
excellent customer service, mutually beneficial partnerships, a digitalisation pioneer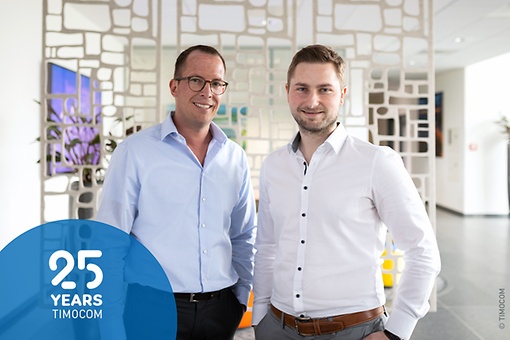 What began as a small start-up project can now be found at use in the offices of over 50,000 European companies – this year, TIMOCOM looks back at 25 years of company development and trailblazing digitalisation work. The company has always made sure to tailor its products to meet customer's needs and carefully select its business partners to improve its services. After all, it is only by working together that the world can master one of the greatest challenges of our times: digitalising the logistics industry.
Digitalisation along the entire transport process
Desktop PCs on sale!  – Freight forwarder Jens Thiermann laid the foundations for TimoCom Soft- und Hardware GmbH and its freight exchange in 1997, by purchasing some computers from a German discount supermarket.
Thiermann tells the story: "It all started when I was looking for a pan-European procurement platform for transport orders in order to reduce empty runs for my freight forwarding company. But I couldn't find one that met my requirements." After months of programming, the company was finally ready for launch in April 1997: TC Truck & Cargo®, as the platform was originally known, went live.
And offers came rolling in to the freight exchange. "Avoid empty running" is no longer a pie-in-the-sky dream, "Find transport orders" is now a standard procedure. Customers recruited customers, and the company expanded internationally, opening locations in Poland, the Czech Republic and Hungary. By focusing on customer needs and keeping an eye on the bigger picture, the company was able to continuously innovate and transform the original freight exchange into today's System, within which more than 50,000 customers from 46 European countries can manage their entire transport process digitally.
Massive investments in research and development, and a focus on sustainability
Tim Thiermann is following in his father's footsteps and has run the company together with Sebastian Lehnen since 2019. Their goal is to transform TIMOCOM into the largest, most secure marketplace within the FreightTech sector.
"We plan to invest around 100 million euro in research and development alone by 2030," says Tim Thiermann.
The freight exchange is still the System's core application, and considering its whole purpose is to avoid empty running, it's no surprise that sustainability is one of the main areas of investment. Already, TIMOCOM's applications can help transport companies to reduce CO2 emissions per kilometre by up to 20 percent, while simultaneously increasing vehicle fleet utilisation by 30 per cent. And a new partnership with a start-up company will soon offer joint customers the option of calculating their own carbon footprint.
TIMOCOM's business partners: working towards digital logistics together
TIMOCOM works with a network of over 300 partners, mostly telematics and transport management system companies: their goal is to ensure that the logistics industry is fully digitalised. When selecting partners, the IT company once again focuses on the needs of their customers, who often approach TIMOCOM and request that a specific provider be integrated into the System. Trade fairs, such as the LogiMAT in Stuttgart, attended regularly by both the IT company and its partners, are a great place to get suggestions from users, who often visit the booth to share ideas, or to find out how to send an email to the TIMOCOM partner management team with suggestions.
The partner that TIMOCOM has the most customers in common with is LIS AG. As part of their 25th anniversary celebrations, TIMOCOM asked Member of the Executive Board Magnus Wagner a simple question: what, in his opinion, is the biggest advantage of working together with TIMOCOM?
"Since many of our customers have been using the TIMOCOM system for a long time, our goal with the API is to prevent them from having to enter the same information in both systems," he explained. "We have designed our transport management system to act as a 'hub', allowing it to connect to services offered by other partners. So it just made sense for us to link TIMOCOM's freight exchange and our system together. A single click in WinSped® transfers data directly to TIMOCOM – this saves our customers a great deal of time, and means they no longer have to switch between different programs to get their work done. In the future, we are positive that many more of our joint customers will start utilising the synergies offered by this partnership."
TIMOCOM has three APIs on offer:
Freight exchange
Transport orders
Tracking
A TIMOCOM partner from Austria, TRANSLOGICA GmbH, was the first company to integrate all three APIs into their existing systems, a major step forward. CEO Dipl.-Ing. Hansjörg Haller was happy to tell us why:
"We and our partner TIMOCOM have a common goal: to promote innovation within the digitalised logistics industry. The APIs we installed allow our employees to manage transport processes without having to switch between programs, which in turn generates significant added value: work takes less time, and the APIs have reduced our costs and improved both quality and efficiency. Our joint customers all benefit from this arrangement. We plan to continue it for a long time, hopefully for the next 25 years at least! Congratulations on your 25th anniversary!"
TIMOCOM, customers, business partners: journeying into the future, together
TIMOCOM's System is easy to use, but simultaneously offers an ever increasing number of applications and functions for customers, a fact already highlighted in an anniversary interview with TIMOCOM's oldest customer, Dallmaco Speditionsges. mbH.
The FreightTech company also continuously accepts and reacts to customer feedback and constantly seeks out strategic partners to improve their services. No wonder the TIMOCOM System and connected services are so successful! But it's really no surprise: these close-knit cooperations are essential for achieving the company's ultimate goal: a world without logistical challenges. After all, it won't be individuals that transform digital logistics to make it fit for the future. No, that is a job for all of us, the joint project that defines our times, a project that every single person can contribute to.
You may also be interested in:
TIMOCOM Start-Up Blog: Find transport orders
It's no secret:how TIMOCOM's freight exchange rose to success
Digital bridges:APIs connect your TMS or ERP system to TIMOCOM's Smart Logistics System