Transport market
23.10.2023
A small API – big improvements in master data quality
TIMOCOM and translogica come together to provide customer Spedination GmbH with what it needs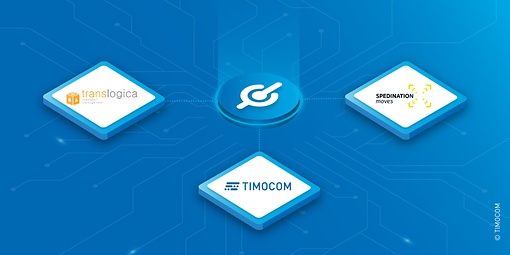 Thomas Kogler, founder and Chief Executive of Spedination GmbH, can no longer bear the thought of a world without APIs. 'We just wouldn't be able to cope anymore. In fact, it would be something of a nightmare,' he says. 
These days, his dispatchers need significantly less time than they used to in order to achieve the same result. Their work is also made even easier thanks to the new Profile API, which simplifies one long-standing administrative task in particular that tends to be put on the back burner. It's a task, however, that is critical to high-quality order processing: master data maintenance. 
Alongside that, the new joint API with TMS provider translogica as an idea generator provides a best case for working in partnerships within the logistics industry.
About Spedination GmbH
Thomas Kogler has been working in the logistics industry for over 20 years. In October 2020, he founded his first freight forwarding company, Spedination GmbH, which is based in Langkampfen, Austria. The transport company is active in 27 countries and has locations in three of these. His recipe for success is a simple one: embrace digitalisation. His company has been 99 per cent paperless since day one. Fun fact: It takes just 0.3 seconds for Spedination to track one of its deliveries.
Avoid errors in master data maintenance
Thomas is well aware that it's not all plain sailing: 'Maintaining your customer base is a complicated subject. There's a lot of scope to get things wrong.' Issues such as duplicate data, missing information, old data and even minor typos all reduce the quality of customer data in a transport management system. This ends up creating stressful delays and problems later in the process. 
Thomas names his business partners' e-mail addresses as a simple example of this: 'My workflows are useless if I've got ten contacts in the system, but eight of them aren't working there anymore.' The process ultimately then has to start all over again – querying the information, checking the company and finally transferring the data. It's always a tedious job that involves copious amounts of copying and pasting between e-mails, web browsers, transport management systems and other programs. The good news is that there is an improvement on the horizon. 
The TIMOCOM network increases the quality of the master data in a transport management system thanks to an API
Thomas is straightforward about the benefits of the new Profile API: 'The quality of your master data is vital to making sure your processes run smoothly when it comes to it.' That's why he's less concerned about saving time here, unlike with the Freight Exchange, Transport Orders or Tracking APIs. He expects the large TIMOCOM network to increase the quality of master data. 
When it comes to data maintenance in particular, there aren't always guarantees that said data is up to date. If business partners fail to actively communicate changes to their data, then the data in the system becomes outdated. This why the network also grants dispatchers autonomy. Instead of having to deal with slow reaction times, the real-time information provided by the TIMOCOM network – which contains data from over 53,000 customers – makes life considerably easier. What's more, it also encourages dispatchers to move on to the next step themselves without having to wait around.
The new API also means the tedious step of having to switch between systems is a thing of the past. For instance, when a company responds to one of the freight or vehicle offers, a simple query sent via the TIMOCOM ID is all it takes to transfer all the relevant information from the Marketplace profile. 
Thomas also finds the tandem with the Transport Orders API particularly helpful. An order can only be submitted if the business partner has been created in the transport management system. A request to the Profile API now sees him receive the business partner's data so he can create them in his own system. 
The user decides which data they want to transfer to their system. Data protection is also a top priority for TIMOCOM. Only data from the TIMOCOM profile, such as name and e-mail address, along with general data about the company, is shared. Only data that users have already shared in the Company Profiles application can be imported. 
More features will be added to the Profile API in the future. For instance, discussions are taking place about adding the feature to import checked documents via the integration.
Using APIs to connect the logistics industry
As far as the Spedination Chief Executive is concerned, the development of the new API is further proof of the good cooperation with TIMOCOM and TMS provider translogica. Transport processes cannot be digitalised if the logistics industry is not connected. 'It's something that definitely has the potential to grow and expand, and it's something we should be talking about much more,' he says. The entrepreneur is all the more pleased to be setting a good example together with TIMOCOM and translogica. 
Spedination GmbH along with other customers of translogica were in major need of the Profile API. 'Being able to integrate our Marketplace into TMS solutions has allowed us to increase employees' productivity and eliminate recurring manual tasks from their to-do lists. This TMS integration has made entering and maintaining master data a thing of the past,' says Steven van Cauteren, Director Sales – Visibility Solutions, Key Account & Partner Management.
'It's becoming more and more important to be connected within the logistics industry – as is the connection of all the solutions involved in the transport process. Master data in particular is becoming increasingly vital to digitalisation being a success. That's why we're delighted to now be able to offer our customers another highly profitable API to TIMOCOM,' agree Hansjörg Haller and Marc Pfaffenberger, CEO and Managing Director at translogica respectively.
At the end of the day, it's not just both companies' customers that benefit from the high-quality master data – the entire industry benefits from better transport processes, too. 
Benedikt Stasch
Marketing Campaign Manager