Logistics expertise
05.04.2022
Saving Time for 25 Years
An Interview with Dallmaco, TIMOCOM's Oldest Customer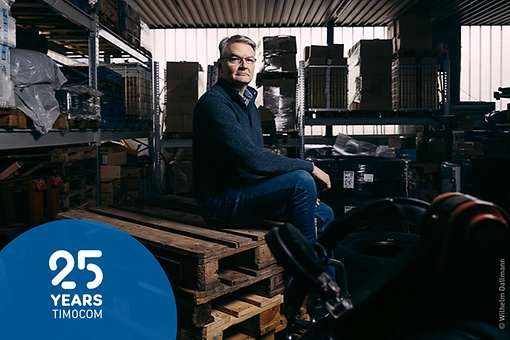 TIMOCOM is celebrating its silver jubilee in 2022. For 25 years, we have used the Smart Logistics System to improve the logistics industry and help it on its way to Logistics 4.0. And Dallmaco Speditionsgesellschaft mbH has been a loyal customer right from the start. The freight forwarder, located in Welle near Hamburg, was only 5 years old in 1997, the year they took their first steps towards digital logistics processes using the newly created freight exchange. We sat down with CEO Wilhelm Dallmann to discuss our shared history, talk about the challenges facing the industry back then and discover how our System is still helping Dallmaco today.
Mr. Dallmann, thank you so much for meeting with us today.
I'm more than happy to, and so glad you asked.  After all, we were one of TIMOCOM's first customers.
We've been working together for 25 years now. Off the top of your head: what comes to mind when you think about TIMOCOM and your long-standing cooperation?
Lots of fun memories from my time working with Jens Thiermann before TIMOCOM was founded.
In terms of TIMOCOM and the business relationship, Dallmaco had only been around for five years at that point and, just like today, we were curious and open to new ideas and strategies. Then TIMOCOM showed up and made a very tempting offer: they planned to digitalise our contacts and transport orders. We already knew and trusted some of the companies in their System, so we were confident that the other System users were also trustworthy, and that has proved to be the case ever since.
Can you describe what it was like to work with early versions of the freight exchange, which was the only application TIMOCOM initially had on offer?
Back then, you accessed the internet via a modem. Our modem used to beep really loudly and it took a long time to load pages. The freight exchange was installed on a central computer and each morning we were all pretty excited to see if any offers had been added to the exchange via the internet, and what those offers looked like.
If we saw something interesting, we printed the offer and then contacted the vendor by fax or called them - of course in those days, we had to call manually, there was no auto-dial function. And lots of other processes were manual too.
Incidentally, back then, the TIMOCOM ID didn't mean much.
Let's take a look at how things have changed: what task took the longest back then? What seemed totally normal back then but would be considered incredibly laborious today?
When I look back, it was the manual processes that really took a lot of time. I mean, it took at least 30 minutes to make sure you had all the documents you needed to create a transport order. If you were working with a foreign company, well, that took hours, particularly since messages were often sent using telex machines and it was pretty common for the connection to be interrupted. But that was just normal, we were used to it. Today we are so used to things going much faster, it's so easy to upload documents and create orders with just one click – it makes it hard to imagine that we ever worked any other way. These days we need three minutes at most to create a transport order.
How you worked back then is one thing, the challenges you faced are another. What challenges were Dallmaco dealing with when the company became a TIMOCOM customer in 1997? What made you put your trust in the new format and become one of our very first customers?
Empty running was the biggest challenge. It was pretty common for our vehicles to drive 1,000km without any cargo. TIMOCOM provided a solution.
What we really liked about TIMOCOM, in addition to the technical advantages, was that they charged a monthly flat rate and nothing more. Any business deals you made after accessing the software were strictly between you and your business partner, and so was payment for those services – that's still true today.
And of course there's the fact that the freight exchange fostered trust. Becoming a TIMOCOM customer meant sharing information voluntarily. That positive attitude regarding transparency was new. And over time, more and more companies we recognised joined TIMOCOM, which underscored the integrity of the service and is definitely still a sign that they offer a premium product.
A lot has happened over the last 25 years. How has TIMOCOM helped your business? In terms of the numbers?
When it comes to processes, TIMOCOM applications provide a time savings of 80 percent,
because we can process orders entirely digitally thanks to the System and the associated APIs. We were also able to significantly reduce the number of empty runs we make. The area search function in the freight exchange has really helped us to find freight from neighbouring areas for our return journeys.
Not only that, the System is international, which has helped us to enter new markets. For example, we opened an office in Bosnia in 2015. Without TIMOCOM, we probably would never have had enough business there to make opening an office worthwhile. But it's not just that we were able to access new markets, we are also able to get a feel for the markets we are already active in, the people we are dealing with and their customs.
Before we used TIMOCOM, it was also pretty difficult to compare offers. But once we joined, we were able to do some research – how do other companies justify their prices, what information do they use to calculate prices and how do they approach negotiations? Particularly as a young company, that research was invaluable.
As you can see, the System is helpful in so many ways.
We're glad to hear it! It's time for our final question, and this time we want to take a look at the future. What would you like to say to TIMOCOM regarding the next 25 years?
The TIMOCOM System has always been simple. Even though more and more features have been added, meaning that the System itself has grown more complex, the interface has remained easy to use. When we train new employees, even apprentices and those who have made lateral career moves, meaning they have never used the System before, it only takes them a day to learn how. Please, keep that simplicity!
Apart from that,  TIMOCOM represents innovation within the industry, and I imagine that they will continue to significantly contribute to digitalisation in the logistics industry as time goes on.
And of course I want to mention that Dallmaco Speditionsgesellschaft mbH turns 30 this year. We would like to take this opportunity to congratulate you and wish you continued success and safe journeys in the future!