Transport market
11.11.2022
Take a two-pronged approach: Use the spot market to avoid empty runs while simultaneously securing contracts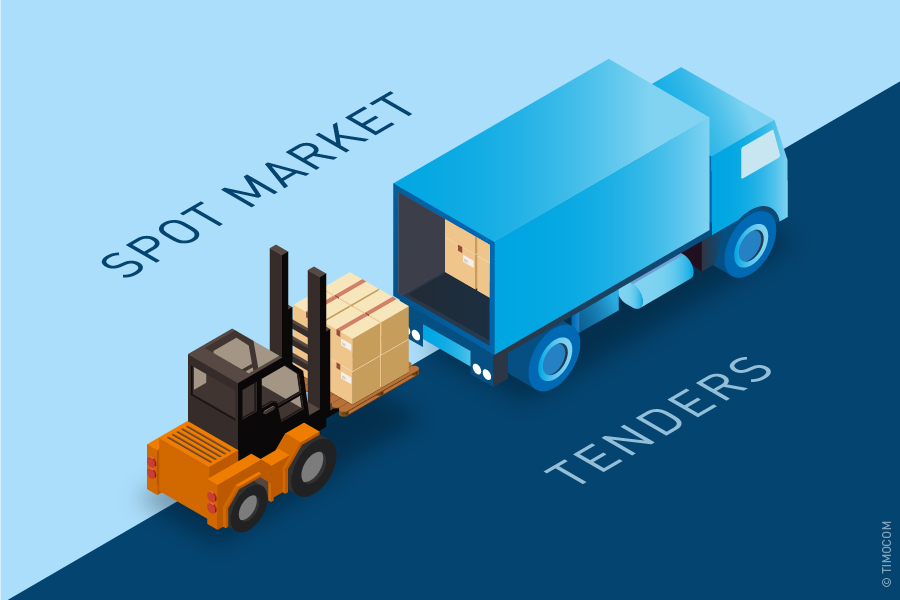 Capacity optimisation software has been around for a long time. TIMOCOM launched the freight exchange 25 years ago. Today, it is a marketplace in which service providers and transport customers can connect with one another digitally. This blog post will demonstrate how to utilise those connections and which contingencies our marketplace can help you prepare for.
Now is a great time to optimise capacities and discover the opportunities offered by the TIMOCOM Marketplace.
Daily opportunities: use the TIMOCOM Freight Exchange to operate at capacity
Your driver calls in sick.
No two days are ever the same.
At the last minute, you realise there is still cargo space in your truck.
You have to find someone to drive a new, one-time route.
Your vehicle requires repairs and you need a replacement.
There is a simple solution to all these problems: the TIMOCOM Freight Exchange, also known as the spot market.
Freight placement for transport customers
There is a simple rule that freight forwarding companies or dispatchers working for industrial or  trade companies can follow. Advertise freight while simultaneously searching for available cargo space. Don't just use one feature, make use of every opportunity to help find a business partner more quickly. If you are worried on missing out on information by having to switch between different views, simply activate notifications and receive a message when any relevant changes occur.
Does a company owned fleet represent security or a point of vulnerability?
While companies with their own vehicle fleets may feel like they are immune to problems affecting transport of their goods, they should be thinking critically about whether or not that is the case. Are they really able to react to bottlenecks at any time and in any place? The list above provides just some examples of why the freight exchange is a great tool for reacting to bottlenecks and other unexpected issues or opportunities.
Service providers on the spot market
If you run a transportation business or work as a broker at a freight forwarding company, then the TIMOCOM Freight Exchange is a fantastic tool. After all, empty runs cost money and you need orders to keep the business profitable. You can advertise available cargo space while also searching for freight, which attracts the attention of transport customers and could help you find orders at short notice. Considering that there are 1 million international vehicle space and freight offers uploaded to the exchange each day, it's very likely that you will be able to find freight at short notice.
Carriers as customers: don't be afraid to switch roles
Finally, freight surplus may mean that carriers themselves end up needing to find a transport service provider. Or they might require frequent co-operations with various or new transport partners. The freight entry and vehicle space search features are the perfect way to handle cancellations or bottlenecks.
Long term planning: use TIMOCOM to tender contracts
The coronavirus pandemic, economic sanctions and environmental catastrophes have had a serious effect on the logistics industry and are making long-term planning harder. The ratings agency Creditreform recently drew attention to the rising failure rate, which they predict will be 1.45 percent by the middle of 2023. Currently it is at 1.06 percent. During the same time period, that is the spring and summer of 2022, TIMOCOM noticed growing interest in the Tenders application. This is true both for companies issuing tenders and for the service providers bidding on said tenders.
So why the sudden increase in interest?
Marc Kohlsdorfer, Team Lead Key Account & Strategic Account Management at TIMOCOM, believes that loss of previous business partners might be one reason. "Companies are searching for new partners to manage recurring transports on the one hand, and on the other, transport companies are in search of long-term orders. With the pandemic and the war in Ukraine, companies have been forced to react at short notice to a variety of changes, and unfortunately not every company survived. Plus, these turbulent times may have caused some companies to rethink their business strategies, and increasingly, that means they prefer long-term business partners."
Plus, it's not hard to imagine that supply chain participants were waiting to see how things would develop. The likely result is a change in strategy, with companies making new, anti-cyclical plans when it comes to business contracts, as reflected on the TIMOCOM Marketplace this summer.
Contracts may be a solution for the problem of low water levels
Over the long term, companies are going to have to find a way to handle transports affected by low water levels in rivers that negatively impact inland shipping on waterways. There have long been calls to switch from barge to rail transport, however infrastructure is simply not keeping apace with the effects of climate change. Right now, road transport is the only available alternative, and even that is quickly reaching its limits.
If you are a transport customer able to switch from transporting your goods by ship to transporting them by road,
or a service provider able to transport goods traditionally carried on barges,
then now is the time to consider the opportunities offered by the transport tenders application and, ideally, plan to make use of it for the coming business year. This will allow your company to sign binding contracts that guarantee your goods will be transported even in the event of low water levels that reduce ship transport capacities. Transport service providers located close to large domestic ports can, in turn, search for permanent contracts for transporting goods in the summer and on through early autumn.
How to: tender and bid on the TIMOCOM Marketplace
Transport customers can make use of two different options They can either use the Tenders application to tender a transport route , or search for vehicles which they then dispatch for specific areas of application. In the first instance, they receive bids from applicants who offer a set price per transport on the route. If they are tendering for areas of application, then bidders submit a bid with information on the price per use or per kilometre.
It's a simple, step by step process. Enter information on the period covered by the tender/contract, payment methods, vehicle requirements, routes, any special notes or groups of recipients. It's easy to use, and you can save your progress and view a preview of your tender.
The application works a lot like the freight exchange when viewed from a bidder's perspective: you can set filters in order to view matching tenders in the results list. You will also see tenders to which you have been explicitly invited to submit a bid in a separate view. You can either submit a bid immediately or calculate your fee using the direct connection to the Routes & Costs application. Of course, you can also withdraw your bid if necessary, or ask for clarification regarding the details of the tender. The tendering company then selects the business partner they wish to work with, and will contact the service provider they have selected once the tender has expired.
TIMOCOM has noticed an increasing interest from tenders in spring and summer 2022. Both tendering companies and contractors show an upward trend.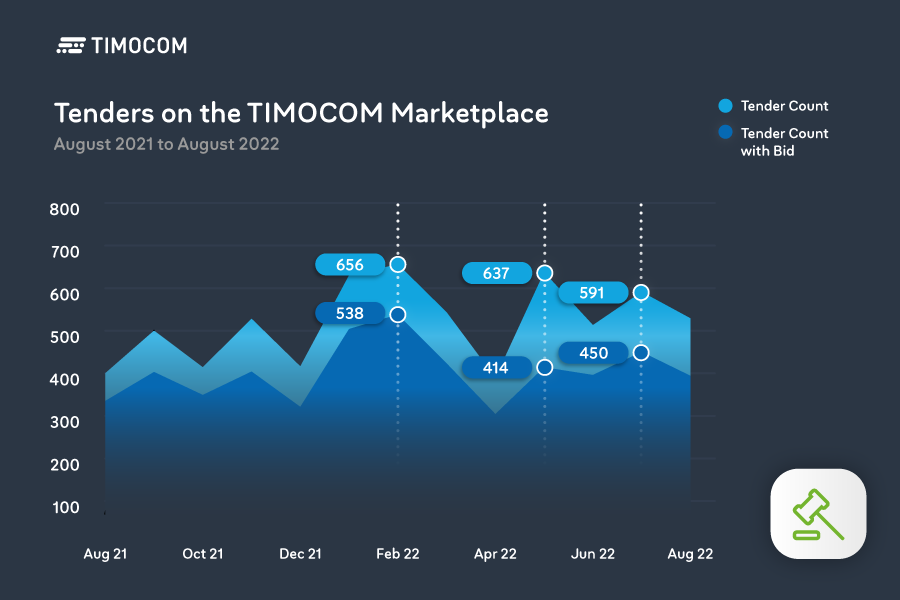 Use the spot market and tenders application in parallel
Team spot market, team contracts – which side are you on?
If you're smart, you won't pick a side. Use the freight exchange and tenders applications simultaneously, to ensure you have the best possible range of options in any situation. That's the optimal strategy, because right now supply chains are very vulnerable to disruption. Not just due to the economic and political situation, but also in light of unpredictable events, such as pandemics, severe weather events and accidents or other disasters. You can use the TIMOCOM Marketplace to manage or even prevent failures and bottlenecks.
Now is a great time to optimise capacities and discover the opportunities offered by the TIMOCOM Marketplace.