Logistics expertise
04.07.2023
5 reasons why you should use a freight exchange as a haulier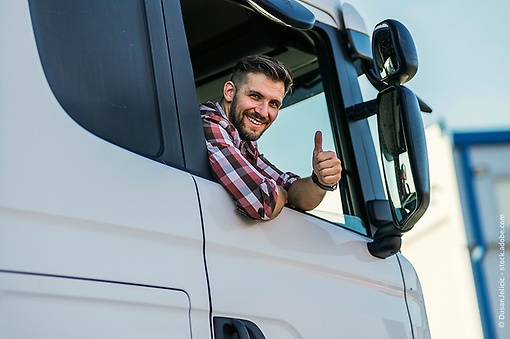 Freight exchanges allow freight forwarders and hauliers to advertise their available transport capacity and search for suitable freight at the same time.  These platforms are now widely used in the logistics industry and offer numerous advantages. Here are five reasons why you, as a haulier, should work with a freight exchange!
Have you already decided to use a freight exchange but are still looking for the right provider? Then TIMOCOM is the right place for you. With the extensive range of services offered by the TIMOCOM Marketplace, you will not only optimise your transport and logistics processes, but also increase your capacity utilisation, avoid empty runs, open up new markets and save valuable time. What are you waiting for?
1. Increasing capacity utilisation
One of the biggest challenges hauliers face is making the most of their transport capacity. A freight exchange offers transport companies the opportunity to increase their capacity utilisation and thus make their business more profitable. Access to a wide range of freight offers means that transport capacity can be used quickly and efficiently. Higher capacity utilisation also allows for better planning, long-term transport orders and stable business relationships, thus helping to strengthen the market position.
2. Reducing empty runs
Empty runs are a major problem in the logistics industry. They can have a significant impact on a transport company's profitability, because they increase both operating costs and environmental impact.
By connecting road hauliers and customers on a single platform, empty runs can be minimised as transport capacity can be adjusted easily and efficiently. By accepting return loads or co-operating with other hauliers, empty runs can be avoided, thus reducing the environmental impact and saving costs.
3. Opening up new markets
A freight exchange allows you to find new customers and access new markets quickly and easily. The large number of freight offers on the platform means you can use your transport capacity in other regions and countries. This is a great way for you to expand your business and have access to new sources of revenue.
4. Time saving
Finding the right freight can be very time-consuming. While the process used to involve reams of paperwork and countless phone calls, the ability to find and allocate freight online allows hauliers to save time and resources.
By automating processes such as order placement, invoicing and documentation, road hauliers can streamline their operations and increase their efficiency. This enables them to take on more jobs and reduce their operating costs. Overall, the time savings help hauliers focus more on their core business and use their valuable time more effectively.
5. Flexibility
Using a freight exchange also gives transport companies more flexibility in selecting and accepting freight offers. Through the online platform, transport companies can choose from a variety of freight offers and accept or reject them according to their needs and capacity.
This gives them the opportunity to plan and adjust their business and capacity better. They can quickly adapt their capacity to the changing market demands without having to rely on long-term contracts, which contributes to increased flexibility and adaptability, leading to greater overall profitability and competitiveness.
Conclusion
Using a freight exchange offers many benefits to hauliers. You can increase your capacity utilisation, avoid empty runs, open up new markets, save time and act flexibly. In addition to the TIMOCOM freight exchange, the TIMOCOM Marketplace offers you numerous other applications that will help you to take your business to a new level and increase your profitability.
TIMOCOM offers a solution for more transparency and more efficient handling of your transport and logistics processes. With numerous applications along the transport chain, you can optimise your processes and increase efficiency. TIMOCOM APIs seamlessly integrate your own transport management system into the TIMOCOM Marketplace. This integration not only increases transparency, but also significantly simplifies cooperation with business partners within the transport network.
With TIMOCOM's Live Shipment Tracking feature, you always know where your shipment is, thanks to real-time GPS data, a calculation of the Estimated Time of Arrival (ETA) and automatic status messages.
Find suitable transport offers and capacities – quickly and easily
Digital order processing, no paperwork required
Avoid congestion at the loading docks with comprehensive time window management
Optimise vehicle utilisation
Reduce administrative burden by eliminating multiple entry of transport-related information.
Reduce errors caused by switching between programs and manual data entry
Real-time information enables proactive planning and control of the transport chain
The TIMOCOM Marketplace makes it possible – Test it now free of charge and discover more than just a freight exchange!