Logistics expertise
09.03.2021
How interfaces remove communication barriers
Logistics: the next level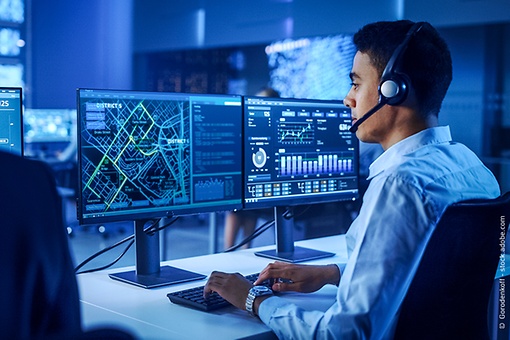 If everyone has access to information, the supply chain can be optimised more efficiently. But sharing data is still a sensitive issue within the logistics industry. Can the data be exchanged securely? Which business partners should have access to data, and what happens to that data after they receive it? What system can be used to exchange data and what is required to implement such a system? The answers to these questions can be found in this blog post. These are questions that commercial and industrial companies, as well as logistics industry participants and freight forwarders, ask themselves daily. Digitalisation is advancing in leaps and bounds, but there is still room for improvement within the supply chain – in particular in cases when multiple supply chain participants are working together. The goal is enhanced utilisation of the supply chain, the next level of logistics, aka Advanced Logistics. There are plenty of programs and software available on the market for organising operative processes. But the real goal should be designing a sophisticated flow of information in order to optimise supply chains
Simple and secure connections are required for creating enhanced communication in the supply chain, and these connections must be compatible with a company's own digital solutions. Interfaces, which connect one or several applications, are a great option. They allow for data to be exchanged in real time, and thus avoid communication problems between business partners.
Having to switch between different programs causes problems
The importance of intelligent connections for the transport and logistics industry will only increase as time goes on. In a study by consulting firm PricewaterhouseCooper, or PwC, participants noted that the most important task for the future is improving efficiency in the supply chain. This can only be done using pioneering digital solutions. They are the core elements required to ensure that logistics companies remain competitive and able to react to changing market conditions.
One of the biggest challenges when it comes to increasing supply chain efficiency is communication issues between participants. Here, too, digital solutions can bridge the gap.
Interfaces create automated processes
It is already possible for companies to work without having to switch between programs, for example using applications in TIMOCOM's Smart Logistics System.
Interfaces, or more properly application program interfaces (APIs) connect two different systems that normally would not be able to communicate with one another.
For example, the tracking interface allows companies to easily track all vehicles on a single map using their own logistics software. Service providers can use this interface to share telematics data from their vehicles with trustworthy partners, either temporarily or over the long term, reducing the need to communicate with their transport customers. They no longer have to make two separate entries into two separate systems. Sharing vehicle locations creates transparency, allowing their business partner to view the location of the vehicle during the entire transport process. This, in turn, allows the recipient to realistically estimate when the goods will arrive. These processes take place (almost) automatically in the interface, significantly reducing the amount of communication required between service provider and transport customer. The time saved can then be used to manage additional transport orders. It's easy to see how a transparent, digital transport process helps to generate more profits.
IT integration can be expensive and time-consuming
The time of APIs in the logistics industry has come, but there are still obstacles to implementation. Companies need IT expertise in order to implement interfaces, and they usually acquire it by hiring an external service provider.
Not only that, connections to business partners can usually only be created bilaterally. Companies who plan to individually implement interfaces thus have to set up an individual interface for each company they wish to connect to.
This is time and cost intensive, and there is a risk that the business partnership will change or even end; at that point the time and effort invested in the interface will have been for nothing.
It makes much more sense to use a digital system that offers simple, secure implementation and interfaces to many different partners.
Secure data exchange – the tracking interface
The tracking interface is a secure solution for all our customers who want to create more transparency during the transport process, or want to process GPS data. Transparency, after all, is a deciding factor that allows companies to stay competitive.
When communication barriers are broken down, recorded data can be evaluated more efficiently. This data can then be used to draw conclusions leading to long-term transport process expertise.
More than 45,000 customers have joined TIMOCOM's Smart Logistics System network, increasing your chances of finding and connecting with the right business partner for you. By using TIMOCOM's existing technology, you can do away with bilateral interfaces. TIMOCOM's network of business partners can be reached using interfaces that are already in place, are simple to use and that keep your data secure while also making it easy to share information.
You may also be interested in:
Improving efficiency in fleet management.
How to plan customised, data driven transport for products you manufacture
Smart Logistics is the most important factor for promoting growth and improving cost efficiency