Fill up! – 3 excellent tips that are a driving force for capacity optimisation
1. Search for freight
Sometimes it seems like an empty or partially filled run is the only option:
But it's not! Whether you are looking for additional freight, partial or complete loads, the TIMOCOM freight exchange is a great place to find the freight you need. Filter based on routes, load metres or weight, and then enter into a legally binding transport agreement to optimise your capacities.
2. Offer vehicle space
If you aren't advertising your cargo space, you should be!
People with freight to transport require vehicle space. All you need to do is provide information on your available capacity and potential routes in the Vehicle Space application and let the customers come to you. If that seems like a lot of effort, simply use the template feature to save valuable time during data entry.
3. Advertise your services
It can be hard to win customers, even if you offer a full spectrum of services.
But over 53,000 verified companies on the TIMOCOM Marketplace rate each other, and they can list their services and upload important documents to their company profile, so it's easy to find business partners. You just have to put your company out there!
Avoid empty running and benefit from the advantages TIMOCOM brings
Security & Data Protection
When you join TIMOCOM, you can rest assured that your data is subject to one of the most stringent data protection laws in Europe. Our security protocols include a comprehensive user verification process and a personalised security code.
You can find matching service providers on the freight exchange as soon as you register; no IT system changes required.
The live shipment tracking feature allows you to view the status of your transport at any time, so you know when the goods will be arriving.
The warehousing exchange helps you to find logistics spaces for short or medium-term rentals, precisely where you need them.
The spot markets helps you to find the right truck and service provider to transport your freight, even at short notice. 
Digital ecosystems like the TIMOCOM Marketplace help participants reduce empty running, which in turn reduces greenhouse gas emissions and costs.
Over 53,000 verified companies are already registered with TIMOCOM.
And you could be one of them.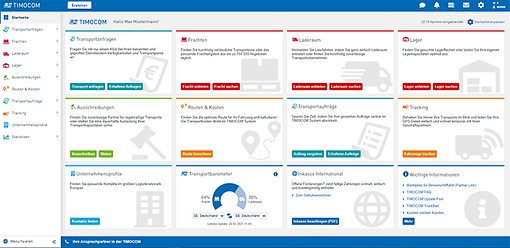 More than 53,000 verified customers from across Europe post up to 1 million freight and vehicle offers daily, all in the TIMOCOM freight exchange. And that's in addition to tenders and individual contracts.
The TIMOCOM Marketplace is the perfect tool for simplifying your transport processes, and it's fully digital. Create your own network of reliable business partners while simultaneously digitalising your logistics processes, with TIMOCOM!
TIMOCOM transport barometer
View the current freight to vehicle ratio for your routes.
Filter results by country, use accurate data to plan your transports and optimise capacities. 
If you have questions or want to know more, we would love to hear from you.